Homemade Apple Butter
Makes about 2-1/2 cups
The Pennsylvania Dutch cook apples and spices in a very slow oven to give apple butter an intense flavor. This is an old family recipe and often found with the traditional PA Dutch 'sweets and sours' served at most family dinners. There are several good store-bought apple butters, especially those with no added sugars. Where I lived in PA, you could buy it homemade from the apple orchards. However, there is nothing like making your own. If you are into canning, double the recipe and place in jars as indicated below. This amount can be made and stored in the refrigerator for up to one month.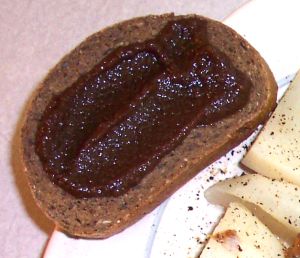 Ingredients
8 cups cored, peeled and sliced apples, about 8 medium apples (see notes below)
About 4-1/2 cups water, added intermittently
1/2 cup dark brown sugar (see notes below)
Dash of salt
2 teaspoons ground cinnamon
1/4 teaspoon ground cloves
1/4 teaspoon ground ginger
Place apples and about 3/4 cup of water into heavy oven-proof saucepan. Bring to a boil; reduce heat, cover and cook until apples are soft. Mash until fairly smooth. Stir in brown sugar, salt and spices. Place in 300° F oven and continue to cook until dark brown. Add water as needed when mixture dries out. Cook until thick and spreadable. The entire process will take about 6 hours. Check the apple butter about every hour and stir well. Taste for seasoning and sweetness.
If canning, place the cooked apple butter in a pot on top of the stove and heat well. Fill sterilized half-pint or pint jars with hot apple butter, leaving 1/4-inch headspace. Adjust lids and process in a boiling water canner for 5 minutes at an altitude up to 1,000 feet, 10 minutes from 1,000 - 6,000 feet. Add 5 minutes processing time at each altitude for quart jars. (Processing times are based on guidelines provided by the USDA National Food Safety Database.)
Notes: Many people cook the apple butter on top of the stove rather than in the oven. Although the flavor will not benefit from the long, slow cooking process in the oven, it is still very good. I use a variety of apples, including tart, such as Granny Smith and Macintosh, as well as sweet. The amount of sugar and spices is approximate and dependent on the sweetness and flavor of the apples. It is best to start with a little less and add more after the mixture has cooked for several hours. For a low sugar or no sugar version, use apple cider instead of water, and cut down on the amount of brown sugar, or eliminate it entirely. Apple butter is traditional as a topping on cottage cheese or spread on rye bread with a pork and sauerkraut meal. Some Dutchman like it on toast, scrapple, pancakes, waffles, even French toast. Just like applesauce, it can also be used to substitute some of the butter or oil in spiced batters and dough.