Pork and Sauerkraut with Sweet Potatoes
Serves 4 to 6
This recipe is typical of sauerkraut as a one pot meal with pork and sweet potatoes. It takes a little time to cook, but is easy and delicious. The Pennsylvania Dutch usually serve this with mashed white potatoes topped with the flavorful juices, but all I need is some good rye bread spread with apple butter.
Ingredients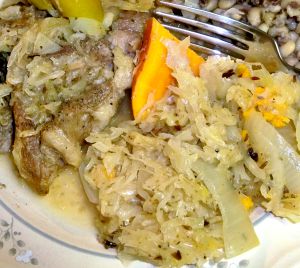 1 pound bone-in pork country ribs
Salt and pepper to taste
1 tablespoon olive or cooking oil
1 pound tart apples, about 2 large, cored and quartered
2 pounds sweet potatoes, peeled and quartered
1 large onion, cut into 1-inch wedges
3 pounds sauerkraut, preferably bagged, drained
1 cup dry white wine
Approximately 3 cups water
1/2 teaspoon prepared mustard
1 teaspoon brown sugar
1/2 teaspoon dry rubbed sage
1/2 teaspoon dried thyme
1 teaspoon caraway seed (optional)
Additional pepper to taste
Heat a Dutch oven or stock pot over high heat. Season the ribs with salt and pepper. Add the oil to the pan, then the ribs. Cook until browned on both sides, about 5 minutes. Add the remaining ingredients, using enough water to come about two-thirds up the vegetables and meat. Bring to a boil and stir the bottom to scrape up any browned bits. Cover; reduce heat to medium-low and simmer until everything is very tender, about 1-1/2 hours. Serve immediately or keep warm over low heat.
Notes: Leftovers reheat very well. To serve a few more people, you can just use an additional pound of pork. However, the recipe can be made in any amount desired, with any ratio of sauerkraut to the other ingredients.