Stewed Dried Corn
Serves 8
If you never had dried corn you really must give it a try. It goes back to the days when drying was used to preserve vegetables through the winter. Dried corn has a rich, nutty flavor, very different from fresh. I was fortunate to have access to a large amount of fresh ears of corn years ago and dried a bunch in my dehydrator. It was great and lasted for several years in an air-tight container. Alternately, there are dried corn products available. We have always used John Copes, which is the only brand I have ever seen. But that was in Pennsylvania and I now live in North Carolina. All I can find here are the precooked canned or frozen versions and, like most packaged foods, they are not quite as good as what you make from scratch. I sometimes have friends or relatives mail several boxes to me, or I order from an online source. This recipe is for stewed corn, but dried corn can also be creamed or added to soups. Additionally, it can be baked like a corn pudding, as in the dried corn casserole in the similar and related recipes.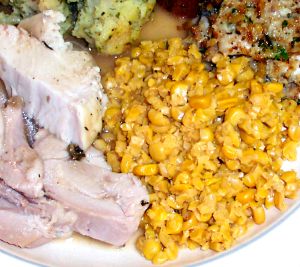 Ingredients
2 cups dried sweet corn
3 to 4 cups boiling water
1 tablespoon sugar
2 tablespoons butter, preferably unsalted, or to taste
Salt and pepper to taste
1 cup regular or evaporated milk
Place corn in large saucepan. Add boiling water and soak for approximately 1 hour, but no longer. Add sugar, butter, salt and pepper. Bring to a boil; reduce heat and simmer for 30 minutes. Add the milk and cook for an additional 5 minutes. Taste for seasoning. Serve immediately or keep warm over a very low heat.
Notes: My mother always used evaporated milk in this recipe. It adds a richer flavor, but regular milk is equally good. Stewed dried corn reheats very well. Leftovers, if there are any, are great as is or added to a pot of soup.