Mom's Lasagna with Meatballs and Sausage
Serves 10 to 12, more as part of a buffet
(Recipe can be halved or doubled)
This is the best lasagna recipe. If you do not mind a little work and want a delicious traditional lasagna, you must try it. My mother perfected it years ago. It is surprisingly authentic when you consider it came from a Pennsylvania Dutch girl. But then, Mom was always an adventurous cook. One of the advantages of lasagna is that it can be made ahead for a casual family dinner, a small party or a large crowd. Do not let the number of ingredients intimidate you. Part of that is because Mom always made meatballs to serve on the side. Believe it or not, she often added pork chops and/or chicken wings to the sauce when serving a crowd, which added even more flavor. That being said, you can omit the meatballs or use any meat you prefer and you will still have a delicious lasagna.
Ingredients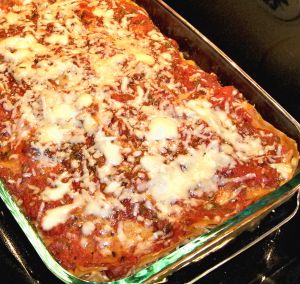 2 pounds uncooked lasagna noodles
Meatballs and Sausage
2 slices homemade-style bread
1/4 cup milk
2 pounds ground beef (Mom used ground chuck)
2 large eggs
4 garlic cloves, minced
1 tablespoon dried oregano
1 teaspoon dried thyme
2 tablespoons dried parsley
1/2 cup grated Parmesan cheese
Salt and pepper to taste
2 pounds Italian link sausage
Sauce
Olive oil
1 large onion, chopped
8 large cloves garlic, minced
1 large can (about 2 pounds) whole tomatoes, crushed with fingers, with juices
1 large can (about 2 pounds) tomato sauce
1 large can (about 15-ounces) tomato puree
1-1/2 tablespoons dried oregano
1-1/2 tablespoons dried basil
4 tablespoons (1/4 cup) dried parsley
Ricotta Cheese Mixture
2-1/2 pounds ricotta cheese
1 package (10-ounces) frozen chopped spinach, thawed and squeezed dry
2 large eggs
Salt and pepper to taste
Additional Ingredients for Assembly
1-1/2 pounds grated mozzarella cheese
1/2 pound freshly grated Parmesan and/or Romano cheese
Cook the lasagna noodles according to package directions for al dente. Drain well and drape, as separately as possible, over the pot and colander until ready to use.
For the meatballs and sausage, soak the bread slices in the milk. Squeeze out the excess juice and crumble into coarse pieces, reserving the excess milk. Mix the ground beef with the bread, milk, and next 7 ingredients. Combine very well with hands. Form into 1-1/2 inch balls. Heat a large fry pan over medium-high heat. Add enough olive oil to lightly coat the bottom. When hot, add meatballs and fry until browned on all sides. Remove from pan and place on plate. Cut sausage into approximately 2-inch lengths. Add to hot pan. Fry until browned on all sides. Add to the meatballs.
Meanwhile, heat about 2 tablespoons of olive oil in a large sauté pan or Dutch oven over medium heat. Add the onions and sauté until softened. Add the garlic and sauté for 1 more minute. Then add the crushed tomatoes, tomato sauce, tomato puree and remaining sauce seasonings. Simmer over low heat approximately 5 minutes. Remove enough of the sauce and place in the meat fry pan to deglaze, scraping up any browned bits in the bottom, then return to the sauce pot. Place the meatballs and sausage in the sauce and continue to cook, partially covered over low or medium-low heat for about 60 minutes. Remove meat from sauce and save for reheating later. Taste sauce and adjust seasonings. Allow to cool before assembly.
To make the ricotta cheese mixture, place the ricotta cheese in a large strainer or sifter for about 30 minutes to allow excess liquids to drain. (This is not necessary if you know the ricotta you use is dry.) Discard the liquids and place ricotta in a large bowl; add eggs, spinach, seasonings and stir until well-combined.
Preheat oven to 350° F. To assemble, layer ingredients in a large lasagna pan (you might need two pans depending on size) in the following order: sauce, noodles, ricotta mixture, mozzarella and Parmesan/Romano. The last layers should be noodles and sauce. (Use just enough sauce to moisten the layers, not make it soupy. There should be some left for heating the meat and for serving.)
Cover lasagna tightly with foil. Bake for 1 hour. Meanwhile, reheat the meat in the extra sauce. Let the lasagna set for 10 minutes before serving. Cut into serving-size portions. Place the meat in a serving bowl and the extra sauce in a gravy boat or bowl. Pass extra grated cheese separately.
Notes: The sizes of packaged products have changed several times since my mother created this recipe and they continue to shrink. I have made it several times using cans or packages that are slightly smaller than what is listed, such as the tomatoes and ricotta cheese, and it works just fine. As I recall, Mom had a large lasagna pan. If you do not have one, a small deep roasting pan will work, or two smaller baking dishes. Adjust the baking time as needed. This entire recipe can easily be halved or doubled for a large crowd (using extra pans). Leftovers can be frozen. Additionally, the unbaked, assembled lasagna can be frozen and heated for a quick weeknight meal, unexpected company or special occasion, which is why Mom always made a large amount.