Eggplant Lasagna
Serves 6 to 8
This was an experiment that turned out to be a success. I had eggplant to use and I wanted to try the instant no-boil lasagna sheets. So, I decided to put the two together in a traditional-style lasagna. As expected, it is absolutely delicious and very light compared to lasagna with a meat sauce. If you cannot find no-boil lasagna sheets, use regular and cook them according to package directions. However, try to find the no-boil because they take less preparation time and no extra cleanup.
Ingredients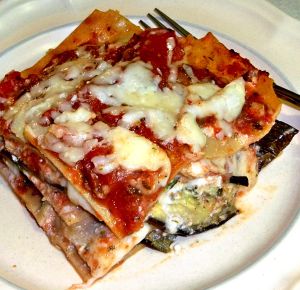 Sauce
3 tablespoons olive oil
1 medium onion, finely chopped
4 large cloves garlic, minced
2 cans (14.5 ounces each) whole tomatoes, crushed with juices
1 can (15 ounces) crushed tomatoes
1/2 cup dry red wine
1 tablespoon chopped fresh basil (1 teaspoon dried)
1 tablespoon chopped fresh oregano (2 teaspoons dried)
2 tablespoons chopped fresh parsley (1 tablespoon dried)
Salt and pepper to taste
Eggplant
2 large eggplants, sliced into 1/4-inch slices
Olive oil or olive oil spray
Ricotta Cheese Mixture
2 cups ricotta cheese (can use part-skim)
1 large egg
2 tablespoons chopped fresh parsley (1 tablespoon dried)
Salt and pepper to taste
Additional Ingredients
3/4 pound instant no-boil lasagna sheets (see comments above and notes below)
12 ounces mozzarella cheese, grated
3/4 cup freshly grated Parmesan cheese
For the sauce, heat the olive oil in a large sauté pan over medium-high heat. Add the onions and sauté until softened, about 5 minutes. Add the garlic and sauté another minute. Add the tomatoes, wine and seasonings. Reduce heat; cover partially and simmer for about 20 minutes until slightly thickened, stirring occasionally. Taste for seasonings and set aside.
For the eggplant, lightly brush or spray both sides of the eggplant slices with olive oil. Roast, broil or grill until lightly browned on both sides and softened. Set aside.
Meanwhile, place the ricotta cheese in a fine mesh strainer and let set for about 45 minutes to drain and discard liquids. Transfer to a medium bowl. Add the egg, parsley, salt and pepper; mix until well combined. Set aside.
If necessary, soften the lasagna sheets in warm or hot water according to package directions. Place on a platter, being certain they will not stick together. Preheat the oven to 375° F. Lightly grease a 13x9x2-inch baking dish with olive oil or olive oil spray. Place enough sauce in the bottom of the dish to cover lightly. Place a single layer of lasagna sheets on top of sauce. Layer 1/3 of the eggplant on top of the pasta, followed by 1/3 of the ricotta mixture and 1/4 of the remaining sauce, mozzarella and finally Parmesan. Repeat the layers 2 more times, ending with a layer of pasta. Cover the top with sauce being certain to spread all over, then the remaining cheeses. Cover tightly with foil. Bake for 25 minutes; remove foil and bake an additional 10 to 15 minutes or until bubbly and lightly browned. (If lasagna browns too much before it is hot, tent with the foil for the remaining time.) Remove from oven and let stand 10 minutes before cutting and serving.
Notes: No-boil lasagna sheets come in various sizes and shapes depending on the brand. You can more accurately judge how many sheets you will need once you measure them. Some noodles take longer to cook, depending on the need to be soaked or not, maybe twice as long. Always check the box and plan accordingly. Since I prefer whole wheat pasta, I cannot always get no-boil sheets so I usually cook regular lasagna. Use your favorite homemade sauce or, in a pinch, a good quality jarred sauce. You need at least 4 cups of cooked sauce in all, depending on how 'saucy' you like your lasagna. It is best to have more than enough. Excess sauce can be refrigerated or frozen for a later use.