Pasta with Eggplant and Tomato Sauce
Serves 4 to 6
I knew that tomato sauce with eggplant would be very good because I have made several versions in the past. However, when I developed this Italian-inspired recipe, my purpose was to utilize the eggplant as a meat substitute, which is common because of its flavor and texture. It really works. It tastes very much like a meat sauce because of the seasonings I added, which are typically used in Italian sausage. Whether you are a vegetarian, a carnivore who wants to eat less meat, or are looking for new and interesting ways to use eggplant, you will love this pasta. It is a quick, easy, healthy and delicious main dish.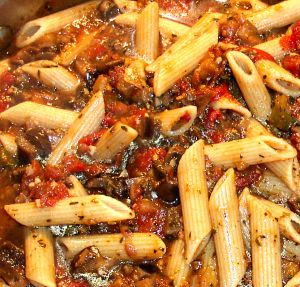 Ingredients
2 eggplants, about 2 pounds total, cut into 1/4 to 1/2-inch cubes
3 tablespoons olive oil
1 cup chopped onions
1/2 cup chopped green peppers
6 large garlic cloves, minced
Salt and pepper to taste
1/2 cup dry red wine
3 cans (14.5-ounces each) whole tomatoes, finely crushed with juices
1 teaspoon fennel seeds
1/2 teaspoon dried marjoram leaves
1/2 teaspoon dried thyme leaves
1/2 teaspoon dried rubbed sage
1 tablespoon dried basil leaves
1 tablespoon dried parsley leaves
1 pound penne rigata or other medium-sized pasta, white, multigrain or whole wheat
Freshly grated Parmesan or Romano cheese
Heat a large sauté pan over medium heat. Add the olive oil, then the onions and peppers. Cook until softened, about 5 minutes. Add the garlic and eggplant. Season lightly with salt and pepper. Continue to cook until the eggplant has browned slightly, about 5 more minutes. Add the wine and bring to a boil, scraping the bottom as needed to release any browned bits. Add the tomatoes, fennel, marjoram, thyme, sage, savory, basil, parsley, additional salt and pepper. Stir well to combine. Reduce heat, cover and simmer until the eggplant is very tender and sauce is thickened, about 30 minutes.
Meanwhile, cook the pasta according to package directions for al dente. Drain well and add to the sauce. Stir well to combine for about 2 minutes. Serve immediately, passing the cheese separately.