Spaghetti with Pork and Tomato Ragu
Serves 4 to 6
I do not make pasta with meat sauces very often, like the traditional Italian meat sauce in the similar and related recipes. Though delicious, they tend to be somewhat heavy and are best reserved for an occasional treat. This recipe is the exception because the pork is very lean and results in a more refreshing sauce, something I can enjoy any time. Ground turkey can be substituted for those who do not eat pork. Although there are quite a few ingredients, they are mostly herbs and spices that give the sauce the flavors of Italian sausage. The sauce does not take long to cook, so it is perfect for a weeknight or casual entertaining.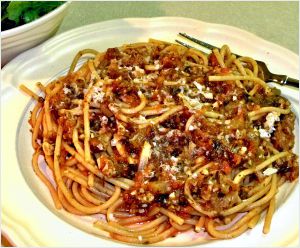 Ingredients
3 tablespoons olive oil
1 pound ground pork, at least 90% lean
1 teaspoon fennel seed
1 teaspoon dried thyme leaves
1 teaspoon rubbed sage
1/2 teaspoon ground savory
Salt and pepper to taste
1 cup finely chopped onions
1 cup finely chopped green peppers
6 large cloves garlic, minced
1/2 cup dry white wine or vermouth
3 cans (14.5 ounces each) whole tomatoes with juices, pureed (see notes below)
1-1/2 tablespoons dried oregano leaves
1-1/2 tablespoons dried parsley leaves
1 tablespoon dried basil leaves
2 tablespoons chopped fresh parsley
2 tablespoons chopped fresh basil
1 pound spaghetti or similar pasta (see notes below)
Freshly grated Parmesan or Romano cheese
Heat a large sauté pan over medium-high heat. Add the olive oil, then the pork. Break pork apart with a spoon. Add the fennel, thyme, sage, savory, salt and pepper. Continue to sauté until lightly browned. Add the onions and green peppers. Sauté until the pork is browned and the vegetables are tender, about 5 minutes. Add the garlic and cook one more minute. Add the wine and deglaze the pan, scraping up all the browned bits. Add the tomatoes, oregano, dry parsley, dry basil, salt and pepper. Stir well to combine. Reduce heat to medium-low. Cover and simmer about 30 minutes, stirring occasionally. If you want to thicken the sauce, remove the lid and cook until the desired thickness.
Meanwhile make the pasta according to package directions for al dente. Drain the pasta and add it to the sauce, along with the fresh parsley and basil. Toss well over the heat for about 1 minute. Serve immediately, passing the cheese separately.
Notes: Puree the tomatoes in a processor, blender, or with a hand blender. In a pinch, you can use canned crushed tomatoes in place of the whole tomatoes. They will be thicker, so add more wine or some water to thin them out a little. I always use whole wheat pasta, which works just as well as white in this recipe and provides a nutritional boost. Perciatelli or bucatini are great substitutes for the spaghetti.