Homemade Italian Sausage
Makes one pound bulk sausage
There are some excellent sausages out there, but it is fun to make your own, especially if you want to have control of the ingredients. This recipe for Italian sausage is very lean. Sometimes, I grind my own pork from the loin, but I have also used the butt which has more fat. Most often I purchase ground pork from the butcher, which is usually 90% lean. I listed a moderate amount of the seasonings. I usually use more. You can always add more after tasting. If you prefer hot Italian sausage, add some hot red pepper flakes. If preferred, ground chicken or turkey can be substituted for the pork. However, you will want a mixture of white and dark meat that is at least 7% fat.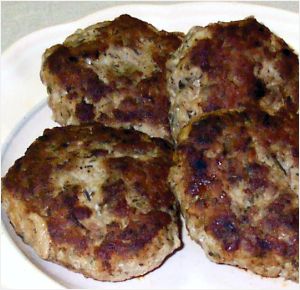 Ingredients
1/2 small red bell pepper, coarsely chopped
4 large cloves garlic, peeled and coarsely chopped
1-1/2 tablespoons fennel seeds
1 teaspoon dried sage leaves
1 teaspoon dried thyme leaves
1 teaspoon dried marjoram leaves
1/2 teaspoon ground savory
1 pound ground pork, about 90% lean
Salt and pepper to taste
Olive oil, if needed
Place the red pepper, garlic, fennel seeds, sage, thyme, marjoram and savory in a small food processor or spice grinder and mince well. (This can also be very finely minced with a knife.) Place the pork in a bowl and add the minced mixture, salt and pepper. Using your hands, mix until very well combined. If the mixture is too dry to hold together when forming a ball, add olive oil, a little at a time, and mix again. To taste for seasoning, take a tiny portion, form into a patty or ball, and cook either in the microwave or a small skillet until done. If needed, add more seasonings to the pork and combine well. The sausage can be used immediately, but will be better if allowed to set, covered, in the refrigerator, for several hours or overnight to allow the flavors to blend. The sausage can be shaped and cooked or grilled as desired, for sandwiches, sauces, soups, casseroles, or anything else for which you would use bulk Italian sausage.