Homemade Breakfast Sausage
Makes about 26 three-inch round patties
I really enjoy a new adventure. Some friends invited themselves to breakfast and offered to bring the food, including eggs and sausage patties. Well, I should have just accepted the offer, but I could not let them come and not do anything. So, since I had a day to plan, I checked the freezer and found a boneless pork butt that I had planned to use for barbecue. I immediately called and said to put a hold on the sausage because I was going to make homemade. I had bought a food grinder attachment for my standing mixer the year before and had yet to use it. This was my opportunity. You cannot imagine how easy this recipe is, or how tasty compared to store-bought packaged sausage. No preservatives, less fat and sodium, and all of the seasonings you prefer. If you do not have a food grinder, the pork can be ground in batches in a food processor, as described in the notes below. Alternately, you can purchase ground pork at the supermarket, which I often do, and season it as indicated in the recipe. The recipe can be made in any amount needed.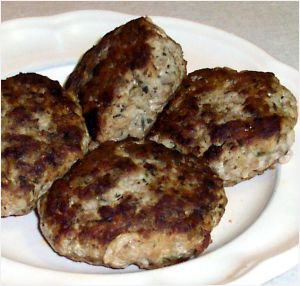 Ingredients
3-1/2 pounds boneless pork butt (fat trimmed, see notes below)
1 teaspoon ground black pepper, or to taste
2-1/2 teaspoons salt, or to taste (see notes below)
4 teaspoons rubbed sage
1 tablespoon dried thyme
1-1/2 teaspoons ground savory
1/4 teaspoon ground mace
1/8 teaspoon ground cloves
Cut the pork into thin slices or as directed by the manufacturer of the food grinder. Pass through a coarse blade twice. Add the remaining ingredients and toss gently with your hands. Take about 1 tablespoon of the mixture and fry in a small skillet. Taste for seasoning. (You might have to do this several times before you get it right.) Add whatever you like, keeping in mind that the flavors will intensify as the mixture sets. When you are satisfied, shape into thin 3-inch round patties. Cover and refrigerate for several hours or overnight to allow the flavors to blend.
Heat a large skillet over high heat. (Depending on the amount of fat in the sausage, you will not need to use oil to fry, especially in a nonstick pan. If the meat is very lean, add a little oil to the pan.) Fry the patties until well browned and thoroughly cooked, about 4 minutes per side depending on thickness. Serve immediately or keep in a warm oven.
Notes: On the subject of fat content, you will need to decide how much you want. I have seen different ratios, ranging from 25% to 30% fat. Some recipes add more fat than is naturally in the meat, such as extra pork fat or fatback. Personally, I prefer to keep it fairly lean, 20% or less, but the choice is yours. If you prefer turkey or chicken sausage, use that in place of the pork. I also use much less salt than called for. You can start with less and adjust as needed. The patties can be prepared ahead and frozen, uncooked, until use. If you do not have a food grinder and still want to try this, the old method is to use 2 large chef's knives and chop the meat, in a drum roll fashion, until desired texture. That takes a long time with this amount of meat, but is fairly simple in smaller amounts. Alternately, the meat can be ground in small batches in a food processor, being careful to keep it coarse.