Italian Sausage Sandwiches with Peppers and Onions
Makes 8 sandwiches
This is a great sandwich recipe, one of my favorites. It is my understanding that Italian sausage sandwiches are a popular street food, at least in Italian-American neighborhoods. Well, I love the sausage. I love the peppers and onions. Put them together in a crusty roll and they are even better.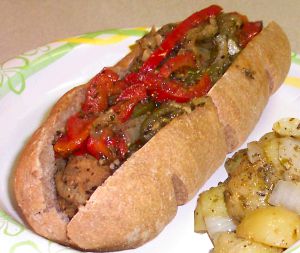 Italian sausage sandwiches are quick, easy and an absolutely delicious main dish for a weeknight or casual entertaining. Make the recipe in any amount needed. Extra peppers and onions make a delicious sandwich the next day. Just add some good sharp Italian cheese. They can also be served that way for vegetarian guests.
Ingredients
3 tablespoons olive oil
4 large green or red bell peppers, or a mixture of both, sliced into 1/2-inch strips
2 large onions, sliced
3 large cloves garlic, minced
2 teaspoons of dried oregano, basil or a combination of both
Salt and pepper to taste
2 pounds Italian link sausage, mild or hot
8 medium crusty hoagie or steak sandwich rolls
Heat olive oil in large sauté over medium heat. Add onions and sauté until slightly wilted (see notes below). Add garlic and cook one more minute. Add peppers and seasonings; stir to combine. Cover and cook, stirring occasionally, until peppers are very tender, about 20 minutes. Remove the lid and cook a little longer to evaporate liquids.
Meanwhile, cut sausage into desired size for sandwiches, allowing for shrinkage. Place on hot grill and cook until browned on all sides and thoroughly done (see notes below). If desired, place cooked sausages in pan with peppers to keep warm. To serve, place a sausage in roll and top with peppers and onions.
Notes: If preferred, the peppers and onions can be grilled or roasted in oven. The sausages can be cooked on a grill pan, pan-fried, baked or broiled. Try to purchase a good sausage that is well seasoned. The seasonings vary greatly depending on where you live. If desired, you can use Italian-style turkey or chicken sausage. Sometimes, I make my own homemade sausage, as in the photo. A little tomato sauce can be added to the peppers and onions for a saucy variation.