Cheese Steak Sandwiches
Makes 3 large or 4 medium sandwiches
Steak sandwiches differ from region to region. Where I grew up in eastern Pennsylvania, the most popular are Italian-influenced, made with shaved beef that is browned and then topped with or simmered in a spicy tomato sauce, topped with melted cheese, grilled onions and hot or mild peppers and served in a crusty sub roll. To this day, that is my favorite cheese steak. The recipe makes more sauce than you will need, so you can actually double the sandwich ingredients to serve more people. Alternately, you can freeze the extra sauce for another time or just make half. For a more traditional Philly cheese steak, omit the sauce.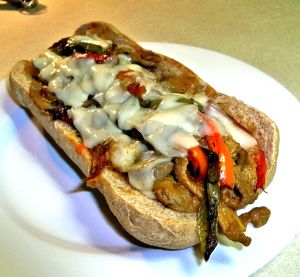 Ingredients
Sauce
2 teaspoons olive oil
1 medium celery rib, chopped
1 medium green pepper, chopped
1 small onion, chopped
1 can (6-ounces) tomato paste, preferably unsalted
5 cups water
1/2 teaspoon brown sugar
1/2 teaspoon dry mustard
Salt and pepper to taste
1/2 teaspoon pickling spice
Sandwiches
2 teaspoons olive oil
1 pound shaved beef (see notes below)
Salt and pepper to taste
One small onion, thinly sliced
One small red or green pepper, or one-half each, thinly sliced
4 to 6 ounces extra sharp provolone cheese, thinly sliced
3 or 4 crusty sub rolls, halved horizontally
Hot pickled peppers (optional)
For the sauce, heat oil in a medium saucepan over medium heat. Add celery, green peppers and onions; cook until slightly tender. Wrap the pickling spices in a piece of cheesecloth or paper coffee filter and tie with cooking twine to close. Add it to the saucepan with the remaining sauce ingredients. Reduce heat and simmer, uncovered, until slightly thickened and reduced by a little more than half, about 45 minutes, stirring occasionally to prevent sticking. (Taste for seasoning after 30 minutes, keeping in mind that the flavors will continue to intensify.) Keep warm until needed. (Can be made ahead, refrigerated and then reheated.)
For the sandwiches, heat a large skillet over medium-high heat. Add the olive oil then the beef. Season lightly with salt and pepper. Sauté until browned on both sides, about 3 minutes. Remove the meat and drain off most of the fat in the pan. Add the onions and peppers and cook until tender, about 10 minutes. Return the meat to the pan. Add enough sauce, about 1 cup, to generously moisten the beef and cook on medium-low until hot and well combined, about 5 minutes. (Refrigerate or freeze extra sauce for another meal.) Divide the beef, peppers and onions between the rolls and top with cheese. Place under the broiler until the cheese is melted. Top with pickled peppers as desired, close the sandwiches and serve immediately.
Notes: When my mother made steak sandwiches, she used store-bought packages of frozen steak sandwich meat. At the time, I thought it was very good. Perhaps my tastes have changed, but I now find all brands to be excessively salty and high in fat. If that is not a problem for you, by all means use it. I tried for years to find an alternative, even trying to slice beef steak as thinly as possible. It made delicious sandwiches, but not the same. Recently, my grocery store started selling packaged shaved beef in the fresh meat section. It is relatively lean and no sodium is added. Ask your butcher if it is available in your area.