Pasta with Mushrooms and Tomato Sauce
Serves 4 to 6
This pasta recipe is another easy, healthy and absolutely delicious Italian main dish that vegetarians and meat lovers will appreciate.
Ingredients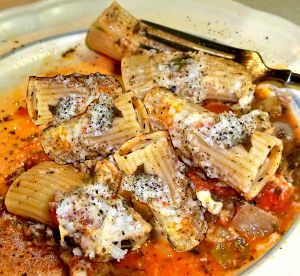 (Pictured with rigatoni pasta.)
3 tablespoons olive oil
2 ounces pancetta, diced
1 medium onion, chopped
1 small green pepper, chopped
8 ounces white or cremini mushrooms, quartered
6 large cloves garlic, minced
3 cans (14.5 ounces each) whole tomatoes crushed with fingers, with juices
1/2 cup dry red wine
2 teaspoons dried marjoram leaves
1 teaspoon dried thyme
2 tablespoons dried parsley
Salt and pepper to taste
1 pound ziti or similar tubular pasta
3 tablespoons chopped fresh parsley
Freshly grated Parmesan cheese
Heat a large sauté pan over medium-high heat. Add olive oil, then the pancetta. Sauté about 3 minutes. (If the pancetta gives off an excessive amount of fat, remove some from the pan at this point. You should have no more than 1/3 cup left in pan, less if desired.)
Add the onions, green peppers and mushrooms to the pan. Continue to sauté until the vegetables are softened, about 5 minutes. Add garlic and sauté for an additional minute. Add tomatoes, wine, dried spices, salt and pepper. Cover and cook over medium-low heat until tomatoes have broken down and liquid has reduced, about 20 minutes. Remove lid and continue to cook until desired thickness, but not too thick. Taste for seasoning.
Meanwhile, cook pasta according to package directions for al dente. Drain, add to sauce and cook for about 1 minute, stirring to combine. Toss in the fresh parsley. Serve immediately, passing the grated cheese separately.
Notes: For a nutritional boost, use multigrain or whole wheat pasta in this recipe. No one will know the difference.