Pasta with Turkey and Mushroom Ragu
Serves 4
This is amazing! I am always willing to try different types of whole grain or whole wheat pastas, so the first time I made this recipe, I decided to try kamut. It is an ancient Egyptian wheat, thought to be the wheat from which all others evolved. The kernels are two to three times larger and much higher in protein and other good nutrients than the wheat of today. It is processed into several different forms, but I was able to find an organic pasta in spiral shapes. They cooked to a perfect al dente texture and had a mild nutty flavor. That being said, I usually use other whole wheat spirals for this dish, but I mentioned kamut so you might give it a try. It costs a little more, as do all whole wheat pastas, but still makes a very inexpensive meal. The turkey and mushroom sauce in this recipe is a perfect accompaniment for whole grain pasta and quite healthy in itself. Despite the number of ingredients, which are mostly herbs and spices to mimic the flavors of Italian sausage, this recipe is a quick, easy, healthy and absolutely delicious main dish no matter what pasta you use.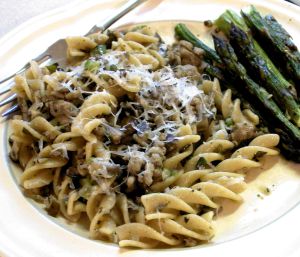 Ingredients
3 tablespoons olive oil
1 pound ground turkey (I prefer 93% lean)
Salt and pepper to taste
2 teaspoons fennel seeds
1 teaspoon dried thyme leaves
2 teaspoons dried marjoram leaves
1 teaspoon dried sage leaves
1/2 teaspoon ground savory
1/8 teaspoon nutmeg, preferably freshly ground
3/4 pound cremini or button mushrooms, chopped
3/4 cup finely chopped onions
3/4 cup finely chopped green peppers
5 large garlic cloves, minced
1 cup dry vermouth or white wine
1/2 cup water
1/2 cup milk, more if needed (can use reduced or nonfat)
1 tablespoon chopped fresh basil
12 ounces spirals, rotini, or similar pasta, preferably whole wheat or multigrain
Freshly grated Romano or Parmesan cheese
Heat a large skillet or medium sauté pan over medium-high heat. Add the oil, then the turkey, breaking the lumps apart as it starts to brown. Season with salt, pepper, fennel seeds, thyme, marjoram, sage, savory and nutmeg. When brown, add the mushrooms, onions, peppers, garlic and a little more salt and pepper. Sauté for 5 minutes, or until the vegetables are softened. Add the wine and water and cook, scraping up any browned bits in the bottom of the pan, until slightly reduced. Reduce heat to low.
Meanwhile, cook pasta according to package directions for al dente. Add the milk to the sauce. Stir until heated, being careful not to boil, adding more milk if more liquid is needed. Drain the pasta and add to the skillet. Stir to combine. Add the basil and stir again. Serve immediately, passing the grated cheese separately.
Notes: Using milk keeps this sauce very light and fresh tasting, which I like. Just be certain not to let it boil. For a richer, creamier sauce, you can use light or heavy cream.