Linguine with Anchovy Sauce
Serves 4 to 6
If you are like many people, you probably are not crazy about anchovies. Maybe you tolerate them on a pizza. You might have unknowingly had them in Caesar salad. Well, that was me until I was introduced to this pasta. Since then, it has become one of my favorite pasta recipes and I have made many converts. As a matter of fact, I have two friends who request it nearly every time they come for dinner. (You know who you are.) This recipe is a very quick, easy and healthy Italian main dish, requiring only a cooked green or salad for a complete meal. It works equally well with white or whole wheat pasta, my personal favorite. For a variation, see the Pasta with Anchovy-Tomato Sauce in the similar and related recipes.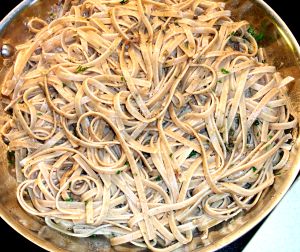 Ingredients
1 pound linguine, fettuccine or spaghetti, white or whole wheat
1/4 cup olive oil
6 large cloves garlic, minced (more or less to taste)
4 ounces canned or jarred anchovy fillets, drained, rinsed and patted dry (see notes below)
3 tablespoons chopped fresh parsley
Pepper to taste
Freshly grated Parmesan cheese
Cook pasta in large pot of boiling water according to package directions for al dente.
Meanwhile, heat oil in small skillet over low heat. Add garlic and cook until soft, being careful not to brown. Add anchovies and stir until disintegrated. (Watch carefully and stir constantly. If necessary, reduce heat to prevent anchovies or garlic from browning. They will burn very quickly.) Add parsley and stir one minute more. Keep warm on lowest setting of burner until use.
Drain pasta, reserving about 1/2 cup of the pasta water. Return the pasta to the pot and add the sauce. Toss well, adding the reserved water until well combined. Serve immediately, passing the Parmesan cheese.
Notes: Anchovies are very salty. Rinsing them with water before use removes some of the saltiness. However, it is not necessary if you do not mind salty foods. This recipe can easily be made in any amount. It can also be served as a side dish, perhaps with a seafood entree.