Linguine with White Clam Sauce
Serves 4 to 6
I absolutely love this seafood pasta recipe. It is so quick and easy to make thanks to canned clams, which you can keep in your pantry along with the linguine for an impromptu weeknight dinner or casual entertaining. That being said, if you are serving this for a special occasion, you can substitute fresh clams. Either way it is a delicious main dish. See the similar and related recipes for additional recipes with pasta and clams.
Ingredients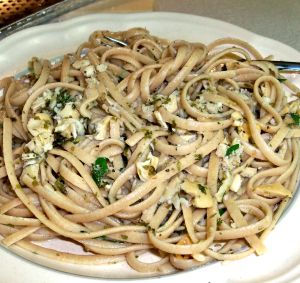 1/4 cup olive oil
6 large cloves garlic, minced (more or less, according to taste)
3 tablespoons chopped fresh parsley, or 1 tablespoon dried
1 tablespoon chopped fresh oregano, or 1 tablespoon dried
6 cans (6-ounces each) minced or chopped clams
1/2 cup dry white wine or vermouth (optional)
Pepper to taste
1 pound linguine or spaghetti
Fresh lemon juice
Freshly grated Parmesan cheese
In a medium skillet, heat oil over medium heat. Add garlic and sauté until golden, but not browned. Add clams with the liquid, wine, parsley, oregano, salt and pepper. Bring to a boil and simmer until liquids are reduced, about 10 minutes.
Meanwhile, cook pasta according to package directions for al dente. Drain, reserving some of the cooking water. Add the pasta to the sauce. Toss well and cook about one minute, adding some of the reserved water if needed to loosen the mixture. Drizzle with a little lemon juice and, if desired, garnish with fresh parsley. Serve, passing the Parmesan cheese separately.
Notes: The broth in canned clams is naturally high in sodium so I do not use salt. Taste first and add only if needed. If it is a concern, the amount of oil can be reduced to two or three tablespoons without compromising flavor. You can use regular white pasta, but this is equally delicious with whole wheat.