Spaghetti with Red Clam Sauce
Serves 4 to 6
When you can get them, fresh clams are the first choice for any pasta with clam sauce, such as my Linguine with Fresh Clams and Tomatoes in the similar and related recipes. But there are times when fresh are not available or when need to come up with a delicious, quick and easy last minute meal. That is why I usually have cans of chopped or minced clams in my pantry. They are delicious in this tomato sauce, as well as in the Linguine with White Clam Sauce, also in the similar and related recipes.
Ingredients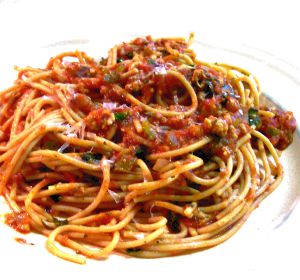 3 tablespoons olive oil
6 large cloves garlic, minced
4 cans (6 ounces each) chopped or minced clams, drained, liquid reserved
1/2 cup dry white wine or vermouth
1 teaspoon dried basil leaves
1 teaspoon dried parsley leaves
Pepper to taste
3 cans (14.5 ounces each) whole tomatoes, crushed finely with fingers, with juices
6 large fresh basil leaves, finely shredded
2 tablespoons chopped fresh parsley
1 pound spaghetti or linguine, white, multigrain or whole wheat
Freshly grated Parmesan cheese (optional)
Heat the oil and garlic in a large sauté pan over medium heat just until the garlic starts to sizzle. Add the clam liquid, wine, dried basil, dried parsley and pepper. Cook over medium-high heat for about 3 minutes, then add the tomatoes, additional pepper, and cook again until the tomatoes are broken down and slightly reduced, about 5 minutes. Add the clams and fresh herbs; taste for seasoning. (The clams and their liquids are salty. If you still need more salt, add it at this time, but go easy.)
Meanwhile, cook the pasta according to package directions for al dente. Drain and add to the sauce. Toss until well-combined, about 1 minute. Serve immediately, passing the cheese separately.
Notes: When fresh herbs are available, I use them, but always at the end of the cooking process. In most of my recipes, as in this sauce, I add some of the dried during cooking for more depth of flavor. You can use all dried or fresh as desired. Some purists never use cheese with seafood, but I really like it on this and most seafood pasta. Since you are passing it separately, everyone can make his or her own choice.