Linguine with Garlic, Olive Oil and Parsley
Serves 4 as a main dish,
8 as a side dish
This simple recipe for linguine is an Italian staple that can be served as a side dish as is or topped with a sauce or braising liquid from an entrée. It also makes a light main dish with a tossed salad for a complete meal. You can substitute just about any long, narrow pasta, such as spaghetti, a slightly wider shape like fettuccine, or a thinner strand like capellini. Try using whole wheat (pictured at right) or multigrain pasta for a more nutritious and equally delicious presentation. This quick and easy recipe can be made in any amount needed.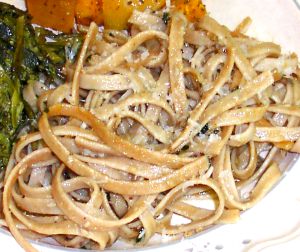 Ingredients
1 pound linguine or other long, narrow pasta
4 tablespoons olive oil, more if needed
6 large cloves garlic, minced or finely chopped
1/4 cup chopped fresh parsley
Salt and pepper to taste
1/4 cup freshly grated Parmesan cheese, more for passing
Cook the pasta according to package directions for al dente.
Meanwhile, heat the oil and garlic in a large sauté pan over medium heat, just until the garlic starts to sizzle, being careful not to let it brown. Drain the pasta, reserving some of the water. Toss the pasta in the pan with the oil, salt, pepper and parsley. If it looks dry, add a little of the reserved pasta water and/or more olive oil. Add the cheese and toss again. Serve immediately, passing extra cheese.
Notes: When I am serving this as a side dish to be topped with a sauce or braising liquid, I sometimes reduce the amount of oil, using just enough to lightly coat the pasta to prevent it from sticking together. Additionally, depending on the sauce, I omit tossing the pasta with the Parmesan and just pass the cheese separately.