Toasted Orzo
Serves 4
This recipe for orzo, a rice-shaped pasta, is quick, easy, and goes with almost any entree, especially those with a sauce or gravy to drizzle on top. Toasting the orzo adds a delicious nutty flavor. If there is no sauce, stir in some chopped fresh parsley and grated Parmesan cheese before serving. There was a time when I only used white orzo or other pasta. Now I prefer whole wheat, especially in a dish like this. It is a little difficult to find but, besides the obvious nutritional benefits, it has more flavor, as do all whole wheat products.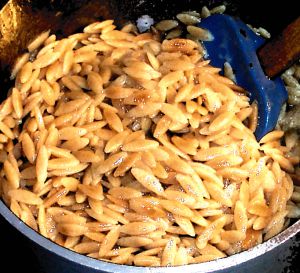 Ingredients
3 teaspoons olive oil, divided
1-1/2 cups orzo, white or whole wheat (see notes below)
2 cups low-sodium chicken broth, vegetable broth or water, plus more if needed
Salt and pepper to taste
Chopped fresh parsley and grated Parmesan cheese (optional, see comments above)
Place 2 teaspoons of the olive oil in a medium saucepan over medium-high heat. Add the orzo and cook until golden brown, stirring often, about 5 minutes. Add the 2 cups of water or broth; bring to a boil over high heat. (If using water rather than broth, add some salt at this point.)
Reduce heat to medium-low; cover and cook until all liquid is absorbed, about 10 minutes, adding a little more liquid if needed for the orzo to become tender. Add the remaining teaspoon of oil, salt, pepper and optional parsley or cheese; stir well. Serve immediately, or keep warm off the heat and covered for up to 10 minutes.
Notes: If using whole wheat orzo, check the cooking time on the package as it usually takes a little longer to cook.