Buttery Toasted Orzo
Serves 4
I love this recipe for orzo, which is a rice-shaped pasta. Toasting the orzo in butter gives it a wonderful, nutty taste. The pilaf is particularly good with entrees that have a light tomato-based sauce to spoon on top, providing acidic contrast to the richness of the butter. However, it is equally good served as is. For a lighter version made with olive oil instead of butter, see the Toasted Orzo in the similar and related recipes.
Ingredients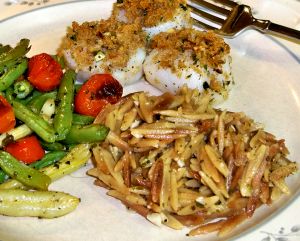 2 to 4 tablespoons butter, preferably unsalted (see notes below)
1-1/2 cups orzo, white or whole wheat
2 cups low-sodium chicken broth, more if needed
Salt and pepper to taste
2 tablespoons chopped fresh parsley (optional)
Melt the butter in a medium saucepan over medium-high heat. Add the orzo and stir well to coat the grains with the butter. Cook until a nutty brown color, stirring often to prevent burning. Add the 2 cups of broth; bring to a boil over high heat. Cover, reduce to medium-low and simmer for about 10 minutes or until all of the liquid is absorbed, adding a little more liquid if needed until the orzo is tender. Season with salt, pepper and parsley. Stir well. Serve immediately.
Notes: When I first made this recipe, I used four tablespoons of butter and it was delicious. Since then, I use less butter in my cooking, and I have found that two tablespoons is plenty for me. The choice is yours.