Toasted Israeli Couscous
Serves 2
If you like couscous but have never had Israeli couscous, you might want to give it a try. It is small, round pasta, but the grains are larger than regular couscous so it does take a little longer to cook. I prefer whole wheat couscous. Even if you are not concerned about eating healthier grains, it works perfectly in this recipe because it has a nutty flavor that is enhanced when toasted. This is a quick, easy, healthy and delicious Italian-style side dish that complements most any entree. The recipe can be made in any amount desired, using equal parts water to couscous (see notes below).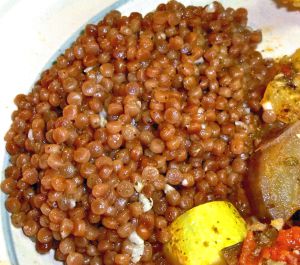 Ingredients
2 teaspoons olive oil
2/3 cup couscous
1 large garlic clove, minced
2/3 cup boiling water
Salt and pepper to taste
Dried or fresh herbs of choice (optional)
Put the oil and couscous in a small saucepan over medium heat. Stir to coat the pasta with the oil. Cook, stirring often, until nicely browned, being careful not to burn. Add the garlic and cook one more minute.
Meanwhile, bring 1 cup water to a boil. Measure out 2/3 cup and add to the browned couscous along with the salt, pepper and dried herbs. Bring to a boil, reduce heat to medium-low, cover and simmer for 6 minutes. Remove from heat and let set about 5 more minutes. Stir in optional fresh herbs and serve immediately.
Notes: If the cooking directions on the package of couscous you purchase vary greatly from these instructions, you might want to follow them. However, this should work with most brands and can be used with regular white Israeli couscous, as well.