Herbed Couscous
Serves 4
If you have not tried couscous, you really should. It sounds exotic, but couscous is actually granulated semolina wheat, the same wheat used in pasta, and is widely available in a precooked form. Because the pieces are so tiny, it only has to soak in a hot liquid for five minutes, making it the perfect side dish for quick meals. Just like rice pilaf, you can add any number of vegetables, herbs or spices to couscous in order to complement the main dish. It is especially good served with a stew or an entree with pan juices or sauce to drizzle on top. I prefer to use whole wheat couscous because it has a little more natural flavor and, of course, beneficial nutrients. This recipe is just a starting point. Have fun and experiment, adding your own favorite embellishments.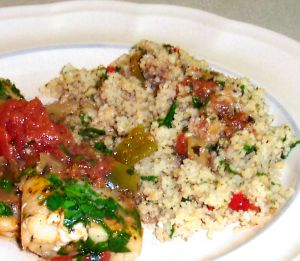 Ingredients
2 teaspoons olive oil
1/4 cup finely chopped onions
2 large cloves garlic, minced or finely chopped
1-1/2 cups water or broth, or according to couscous package directions
1 to 2 teaspoons of dried herbs (see comments above)
Salt and pepper to taste
1 cup couscous, white or whole wheat
Chopped fresh herbs (optional)
Heat the olive oil in a small saucepan over medium-high heat. Add the onions and sauté until tender, about 3 minutes. Add the garlic and sauté another minute. Add the water, dried herbs, salt and pepper. Bring to a boil over high heat. Stir in the couscous; cover and remove from heat. Let set 5 minutes, or until all of the liquid is absorbed. Fluff with a fork, incorporating fresh herbs. Serve immediately.
Notes: If desired, additional chopped vegetables, such as peppers, can be sautéed with the onions.