Farro with Roasted Grape Tomatoes
Serves 4
I love whole grains and try as many as I can find. Italian farro comes from a type of ancient wheat. The grains are similar to regular wheat berries, which are more popular. Farro has a nutty flavor and a chewy texture that reminds me of Kamut berries, another ancient grain. It is delicious as a quick and easy side dish, as in this recipe, as well as in salads and soup. Most farro found in the United States is pearled, meaning some of the outer bran layer has been removed for quicker cooking, much like pearled barley. You will need to check the package to make certain the farro does not need presoaking. If it does, you can still use it in this recipe, allowing extra time as indicated. I can get farro at my grocery store but, if you cannot find it, wheat berries, kamut or barley can be used. Check the package for suggested cooking times. This recipe can be halved or doubled, maintaining a ratio of two parts liquid to one part farro.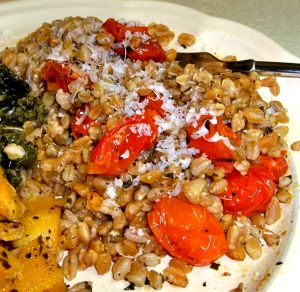 Ingredients
1 cup pearled or semi-pearled farro (see comments above)
1 teaspoon olive oil, more as needed
2 large garlic cloves, minced, divided
2 cups water
1 teaspoon dried basil leaves
Salt and pepper to taste
1 pint grape or small cherry tomatoes, rinsed and dried
2 large basil leaves, shredded or chopped
Freshly grated Parmesan or Romano cheese for passing
Preheat oven to 450° F. Line a small sheet pan with foil and spray with olive oil cooking spray. Rinse the farro in a strainer, draining all of the water. Place 1 teaspoon olive oil and 1 teaspoon of the garlic in a medium saucepan over medium-high heat. When the garlic starts to sizzle, add the farro, water, dried basil, salt and pepper. Bring to a boil over high heat. Reduce heat and simmer until the farro is cooked but still firm with a good bite, about 15 minutes. If necessary, drain, return to the pan and keep warm.
Meanwhile, toss the tomatoes with salt, pepper, the remaining garlic and just enough olive oil to lightly coat on the sheet pan. Roast until softened and some of the tomatoes pop, about 15 minutes. Remove from the oven and toss in the fresh basil. Add to the cooked farro and stir gently to combine. Serve immediately, passing cheese separately.
Notes: If you are serving with another dish that has a sauce, the tomatoes can be omitted and the farro topped with some of the sauce. Additionally, the basil can be substituted with other herbs to match the entree. Leftovers reheat very well in the microwave.