Kasha Pilaf (Toasted Buckwheat Groats)
Serves 4 to 6
Kasha is toasted buckwheat groats and is actually not a grain, but it looks, cooks and tastes like one. It comes in several forms, from whole to fine granulation. It is used for cereals, side dishes and main dishes. It is prepared similar to rice, but takes a little less time to cook. I love the nutty taste. I can get kasha at my grocery store but, if you cannot, you should be able to find it at a specialty store that sells grains. If you cannot find it in its toasted form, get raw buckwheat groats and toast them in a dry skillet over medium heat until golden, about five minutes. Watch them carefully so they do not burn. Even with that extra step, this recipe is a quick, easy, healthy and delicious side dish.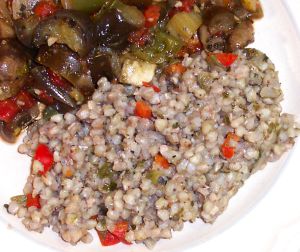 Ingredients
1 teaspoon olive oil
1/4 cup finely chopped onion
1/4 cup finely chopped red and/or green bell peppers
2 large garlic cloves, minced
1 cup whole grain Kasha
2 cups water (can use homemade or low-sodium broth)
Salt and pepper to taste
Herbs and/or spices to taste (see notes below)
Heat the oil in a medium-high saucepan over medium heat. Add the onions and peppers; sauté until softened, about 3 minutes. Add the garlic and sauté another minute. Add the kasha and stir to combine. Add the broth or water, salt, pepper and herbs; increase heat to high and bring to a boil. Cover, reduce heat to medium-low and simmer until tender and all of the liquid is absorbed, about 12 minutes. Remove from the heat and let set about 5 minutes. Fluff gently with a fork before serving.
Notes: The amount of kasha to liquid is based on the brands I use. However, I have used both toasted and raw groats, both of which call for the same amount. Check the box you are using just in case it suggests something different. I add herbs and spices to complement the entree with which I am serving the kasha. So, if my entree has thyme and rosemary, I will probably add some dried thyme and rosemary leaves to the kasha. Seasoning in any grain pilaf is very versatile. And it does not take much, perhaps 1/2 teaspoon of each flavor. As I understand it, buckwheat is actually an herb and, therefore, a gluten free product. However, check with an expert if you are gluten intolerant.