Pasta with Chicken and Asparagus
Serves 2
I love pasta. I love asparagus. And chicken is one of my favorite go to meats. So why not combine them all into one quick and easy main dish. Add some Parmesan cheese and the results are delicious. This recipe makes a simple and healthy weeknight meal your family will love, but it is equally appropriate for casual entertaining. The recipe can easily be doubled or made in any amount needed. Cooking for one? Make the whole amount and refrigerate the leftovers for a quick room temperature or reheated meal the next day. For a similar pasta dish, see the Farfalle with Salmon and Asparagus in the similar and related recipes.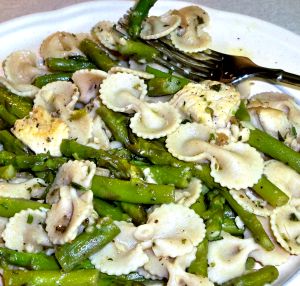 Ingredients
3 tablespoons olive oil, divided
4 ounces chicken breast or tenders, cut into bite-sized pieces
Salt and pepper to taste
4 large garlic cloves, minced
1 bunch (about 1 pound) asparagus, cleaned, tough ends discarded, remainder cut into 1-inch pieces
1/2 teaspoon dried marjoram leaves
1/2 cup dry vermouth or white wine
Water if needed
6 ounces farfalle (bowties) or similar pasta (I use whole wheat)
2 teaspoons chopped fresh marjoram
1/4 cup freshly grated Parmesan cheese, more for passing
Heat a large skillet or medium sauté pan over medium-high high heat. Season the chicken with salt and pepper. When the pan is hot, add 2 tablespoons of the oil, then the chicken. Sauté until the chicken is lightly browned on all sides, about 2 minutes per side. Remove chicken from the pan and set aside.
Add the remaining tablespoon of oil to the pan with the garlic. Cook just until the garlic is softened, about 1 minute. Add the asparagus, salt and pepper, wine and dried marjoram. Cover and cook until tender, about 7 minutes, adding a little water if the wine evaporates. Return the chicken to the pot and cook until done, about 4 more minutes.
Meanwhile, cook the pasta according to package directions for al dente. Drain, reserving about 1/2 cup of the pasta water. Add the pasta to the chicken and asparagus. If it is dry, add a little of the pasta water for moisture. Toss in the 1/4 cup Parmesan cheese and the fresh marjoram. Serve immediately, passing additional grated cheese.
Notes: I do not suggest using pencil asparagus for this recipe. Actually, no matter what the preparation, I prefer thicker stalks because they cook up tender and I think they have more flavor.