Farfalle with Salmon and Asparagus
Serves 2 to 3
I absolutely love salmon and keep canned on hand for times when fresh is not available and I do not have any in my freezer. When I use canned, I usually make salmon patties or some sort of sandwich, as in the similar and related recipes. So I decided to try something different. This tasty pasta recipe is a quick, easy and healthy main dish for a busy weeknight or special occasion, needing only a light salad on the side.
Ingredients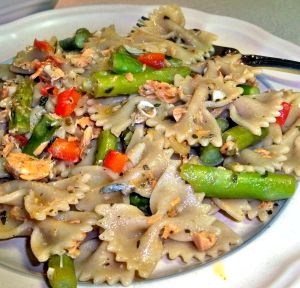 2 tablespoons olive oil
1/2 medium red bell pepper, chopped (about 3/4 cup)
3 large garlic cloves, minced
1 bunch asparagus, cleaned, trimmed, cut into 1-1/2 inch pieces
3/4 cup dry vermouth or white wine
8 ounces farfalle (bowties) or similar pasta, preferably multigrain or whole wheat
Juice and grated rind of 1 lemon, divided
1 can (about 7.5-ounces) canned salmon, preferably wild Alaskan, drained and coarsely flaked
1/2 cup pasta cooking water
4 large basil leaves, chopped
Freshly grated Parmesan cheese (optional garnish)
Heat the olive oil in a medium skillet over medium-high heat. Add the peppers and cook until softened, about 4 minutes. Add the garlic and cook 1 more minute. Add the asparagus and wine. Bring to a boil, reduce to a simmer and cook just until tender, about 5 minutes.
Meanwhile, cook the pasta according to package directions for al dente. Add the salmon, juice of half of the lemon and grated rind to the sauce. Cook until heated. Add enough of the pasta cooking water to make a sauce. Add the pasta and basil to the sauce. Stir to combine. Serve immediately, drizzling each serving with additional lemon juice and passing the cheese separately.
Notes: I prefer whole wheat pasta. Whether or not you are concerned about eating whole grains, it is especially good in a dish like this because the slightly "nutty" flavor of the whole wheat complements the other ingredients. The bones in canned salmon are edible and contain calcium. However, if desired, they can be removed before cooking. I always buy 'no-salt-added' salmon and tuna since the fish contains sufficient sodium from the sea. It is not always easy to find but, if available, you might want to give it a try.