Mom's Salmon Patties
Serves 4 to 5
I absolutely love fresh salmon and purchase it more than any other seafood. However, sometimes it is a little too expensive or not as fresh as it should be. That is when I pull out the canned salmon. This recipe came from my mother, and it is so easy and delicious. Sometimes, I add a few vegetables, as I do in my salmon cakes recipe, which is in the similar and related recipes, but Mom's version is good just the way it is. I always use wild caught Alaskan canned salmon and I prefer red sockeye. I believe it has more flavor and it is a sustainable seafood.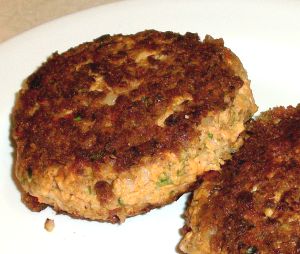 Ingredients
4 cans (about 7.5 ounces each) salmon, drained
1/2 small onion, very finely chopped
1 tablespoon fresh lemon juice
4 tablespoons mayonnaise
2 large eggs, lightly beaten
1 teaspoon dried dill weed (use fresh if available)
Salt and pepper to taste
1-1/2 cups finely crumbled fresh breadcrumbs
Olive oil for frying (about 4 tablespoons)
Lemon wedges, for serving
Break the salmon apart with your fingers or fork and place in a medium-sized work bowl. Add the onion, lemon juice and mayonnaise; combine well. Add the beaten egg and mix in. Add the dill weed, season with salt and pepper and stir again. Shape into 8 large or 10 medium patties. Coat with the bread crumbs and pat until they stick. If time allows, place in the refrigerator for about 30 minutes before cooking.
Meanwhile, heat the olive oil in a large skillet over medium-high heat. Add the salmon patties and fry until golden brown, about 4 minutes per side. Serve immediately. Drizzle with additional lemon juice, if desired.
Notes: This recipe can be made in any amount. Leftovers can be wrapped in foil and reheated in a medium oven to make a delicious salmon patty sandwich.