Crab Cakes (with optional roasted red pepper sauce)
Serves 3 to 4 as a main dish, 6 to 8 as an appetizer
Crab cakes used to be a mystery to me. With few exceptions, the ones I ordered in restaurants were loaded with so much stuffing and seasoning you could not taste the crab. Actually, the taste and texture were more like poultry stuffing. So, I started to make them myself and what a difference. This is based on a Jeff Smith recipe and they are the best crab cakes I have ever tasted. They are quick, easy and delicious as a seafood appetizer or main dish. I guarantee you will taste the crab. You could serve with just a wedge of lemon or your favorite tartar sauce, but the roasted red pepper sauce in the similar and related recipes is especially complementary. You will only need half of that recipe to serve with this dish. For a variation, try the lobster cakes, also in the similar and related recipes.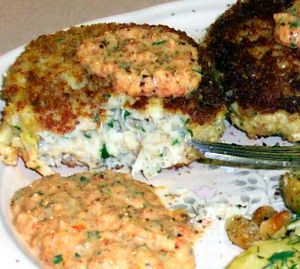 Ingredients
2 large eggs
2 tablespoons freshly chopped parsley
1 teaspoon dry mustard
1 teaspoon Worcestershire sauce
2 tablespoons mayonnaise
1 teaspoon fresh lemon juice
Salt and pepper to taste
1 pound cooked crab meat, flaked
1/2 cup fresh breadcrumbs, more as needed
Panko breads crumbs for dredging
Half butter and oil for frying
Lemon wedges
Roasted Red Pepper Sauce with Capers and Dill (optional, see the similar and related recipes)
Beat the eggs in a medium-sized bowl. Add the parsley, mustard, Worcestershire, mayonnaise, lemon juice, salt and pepper; mix well to combine. Gently fold in the crab meat and fresh crumbs until well combined. (The mixture will be very moist. If it is wet, add a few more fresh breadcrumbs.) Divide the mixture into 6 to 8 portions; flatten gently into thick patties. (Packing the mixture into 1/3-cup measure for each cake will ensure even portions and yield seven cakes. For more or less cakes, use a slightly smaller or larger cup.) Lightly coat the top and bottom of each patty with panko crumbs. If possible, refrigerate for 30 minutes before cooking to help the cakes hold together.
Heat a 12-inch skillet over medium-high heat. Add enough butter and oil to generously cover the bottom. Add the crab cakes, in batches if necessary, and fry until golden brown on both sides, about 4 minutes per side. (Be gentle when turning the crab cakes as they are somewhat fragile.) Remove from the pan and drain on a baking rack set on a baking sheet. Serve immediately, with or without the sauce or lemon wedges.
Notes: If desired, you can make these crab cakes lighter and healthier without compromising flavor. Replace one of the whole eggs with two egg whites. Use light or canola mayonnaise. I always use whole wheat fresh breadcrumbs, and I often use whole wheat panko. Finally, use a nonstick skillet and fry the cakes in just a little canola oil. The recipe can easily be cut in half or doubled as needed. Cooked crab cakes can be kept warm in a 200° F oven while waiting for others to fry.