Roasted Red Pepper Sauce with Capers and Dill
Makes about 1 cup
This recipe for roasted red pepper sauce makes a quick and easy condiment. Use it as a sauce for seafood or chicken. Add it to sandwiches in place of mayonnaise. It also makes a delicious and healthy dip for vegetable crudites. I especially love it with my crab cakes, which is in the similar and related recipes.
Ingredients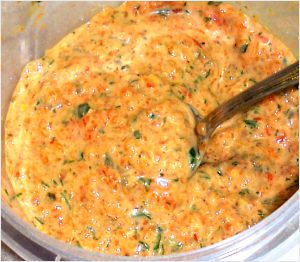 2 large roasted red bell peppers, roasted and peeled (see the similar and related recipes)
1 tablespoon fresh dill
1 tablespoon fresh parsley
1 tablespoon drained capers
2 tablespoons sour cream (can use reduced fat)
2 tablespoons mayonnaise (can use light or canola)
Salt and pepper to taste
Purée the peppers, dill, parsley and capers in a processor or blender, maintaining a little texture. Transfer to a small bowl. Add the sour cream, mayonnaise, salt and pepper. Stir until combined. Taste for seasoning. Let stand until needed, about 30 minutes, or refrigerate up to 2 days. Bring to room temperature before serving.
Notes: Roasted peppers are very easy to make, but you could use store-bought. Depending on how you are serving this sauce, you might prefer to have more texture by just chopping the dill and parsley by hand, then adding them, along with the capers, in the bowl with the sour cream and mayonnaise. This recipe can easily be halved or doubled as needed.