Salmon Cakes
Serves 4
I really love my mother's salmon patties made with canned salmon, which is in the similar and related recipes. However, I decided to try using freshly cooked salmon, or even leftover salmon, in a new recipe. This is very easy, delicious and, despite the number of ingredients, a quick meal for a weeknight, especially if you cook extra salmon one night, then use the leftovers for the cakes.
Ingredients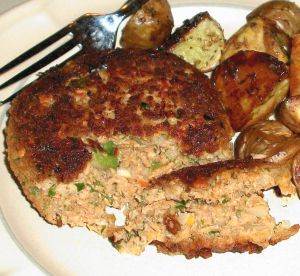 2 cups cooked salmon, flaked (see notes below)
2 tablespoons very finely chopped red bell pepper
2 tablespoons very finely chopped green bell pepper
2 tablespoons very finely chopped onion
1 teaspoon Dijon mustard
3 tablespoons mayonnaise (can use light or canola)
Juice and grated rind of 1/2 lemon
Salt and pepper to taste
1 tablespoon chopped fresh dill (or 1 teaspoon dried dill weed)
3 tablespoons chopped fresh parsley (or 2 tablespoons dried parsley leaves)
1 large egg, lightly beaten
2 cups finely crumbled fresh breadcrumbs, divided
3 tablespoons olive or canola oil for frying
Place salmon, peppers, onions, mustard, mayonnaise, lemon juice and rind, salt, pepper, dill and parsley in a medium bowl. Stir well to combine. Taste for seasoning and adjust as needed. Add the egg and stir to combine. Stir in 1/2 to 2/3 cup breadcrumbs. (Add just enough breadcrumbs to bind everything together. The mixture should still be quite moist.) Form into 8 patties. Coat each cake in the remaining breadcrumbs, shaking off excess crumbs. Refrigerate for at least 30 minutes, or up to 4 hours, to set.
Heat the oil in a large nonstick skillet over medium-high heat. Add the salmon cakes, in batches if necessary, and brown well, about 4 minutes per side. Turn very gently. (If making in two batches, keep the first batch warm in a 200° oven.) Serve with lemon wedges.
Notes: If making the salmon from scratch, it can be poached, grilled, broiled or pan-seared with just a little salt, pepper and oil. When cooked and cooled, remove the skin and flake the fish well with your fingers or the back of a fork. You will need about 3/4-pound salmon fillets to make the 2 cups. If you have a little more or less cooked salmon than called for, adjust the amount of breadcrumbs as needed. Alternately, canned salmon can be substituted for fresh. You can use white, multigrain or whole wheat breadcrumbs in this recipe.