Roasted Salmon with Dijon, Garlic and Dill
Serves 2
I love salmon, and this roasted version is another quick, easy, healthy and delicious presentation that is equally appropriate for a family dinner or entertaining. For a slightly different version that is equally simple and tasty, see the salmon with breadcrumb crust in the similar and related recipes. This recipe can easily be doubled or made in any amount needed.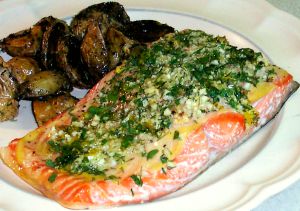 Ingredients
Cooking oil spray
2 thick center-cut salmon fillets, about 6 ounces each
Salt and pepper to taste
1 teaspoon Dijon mustard
Juice and grated rind from 1 small lemon, divided
1 large garlic clove, finely minced
1 tablespoon chopped fresh dill
1 tablespoon chopped fresh parsley
About 1 teaspoon olive oil
Preheat oven to 450° F. For easy cleanup, line a shallow baking sheet or pan with foil and spray lightly with cooking oil. Pat the salmon dry with paper towels. Place, skin-side down, on the baking sheet. Season with salt and pepper, then spread the mustard all over the top. Drizzle each with about 1 teaspoon of the lemon juice.
Toss together the garlic, lemon rind, dill and parsley. Sprinkle on top of the fillets and press down with your fingers to help it adhere. Drizzle each fillet with oil, about 1/2 teaspoon each. Bake until the desired doneness, about 8 minutes for medium-rare, depending on thickness. Serve immediately, drizzled with extra lemon juice.