Roasted Shrimp with Lemon and Parsley
Serves 4
I love shrimp, whether sautéed, fried, broiled, grilled or boiled. I just do not know why it took me so long to roast them. This recipe is quick, easy, healthy and so delicious. You can change or add any herbs or spices you prefer. Sometimes, I add a little minced garlic. For this recipe, it is best to use large shrimp so that they do not overcook in the hot oven. Roasted shrimp is fabulous as a hot main dish, but also makes a great finger food for an hors d'oeuvres party, or a shrimp appetizer with cocktail sauce, which is in the similar and related recipes. The recipe can be made in any amount needed.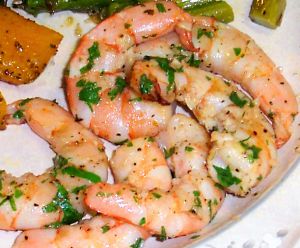 Ingredients
1-1/2 pound large shrimp, peeled and deveined
1/2 teaspoon grated lemon rind
3 teaspoons fresh lemon juice
1-1/2 tablespoons chopped fresh parsley
Salt and pepper to taste
About 1 tablespoon olive oil
Lemon wedges for garnish
Combine all ingredients, except the lemon wedges, in a medium bowl. Cover and refrigerate for about 30 minutes. (If you do not have time, the shrimp can be used immediately.)
Preheat the oven to 450°. Place the shrimp in one layer on a baking sheet, preferably lined with foil for easy cleanup. Drizzle with a little more oil if needed. Roast until the shrimp start to turn pink, about 5 minutes, depending on size. Turn and roast for one more minute. Serve immediately, garnishing each plate with a lemon wedge.