Crispy Roasted Shrimp with Panko Crust
Serves 4
This shrimp recipe is absolutely delicious. It is based on two different recipes I found. One used whole eggs and seasoned dried breadcrumbs, the other egg whites, fresh garlic and panko (Japanese breadcrumbs). After trying both recipes, I decided to combine the two, using egg whites and panko seasoned with garlic powder, thyme and pepper. This is a delicious and healthy alternative to fried shrimp that is quick, easy and special enough for entertaining. The recipe can be made in any amount.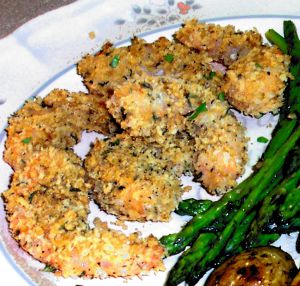 Ingredients
1-1/2 pounds large shrimp (20/24 count), peeled and deveined
3/4 cup panko crumbs, toasted and crushed slightly (see notes below)
1/8 teaspoon garlic powder
1/2 teaspoon dried thyme leaves
Salt and pepper to taste
2 large egg whites, lightly beaten
Cooking oil or spray
Place the peeled shrimp on paper towels and pat dry. Mix together the panko, garlic powder, thyme, salt and pepper. Dip the shrimp into the egg whites, then roll into the crumbs to coat lightly. Place on a baking rack set on a sheet pan and refrigerate for 30 to 60 minutes. (Refrigerating the breaded shrimp helps the crumbs adhere when roasting. However, that step can be eliminated.)
Preheat oven to 450° F. For easy cleanup, line a sheet pan, large enough to hold the shrimp in one layer, with foil. Place in the oven to preheat for about 5 minutes. Lightly coat the hot baking sheet with cooking oil or spray. Place the shrimp on the baking sheet and roast until the shrimp are done, about 6 minutes, depending on size. These are good hot or room temperature.
Notes: Because the shrimp roast in very little time, it is best to toast the panko before using to produce a browner crust. Place the crumbs on a small sheet pan and toast in a 400° F oven until golden, tossing at least once, about 7 minutes. Be careful not to brown them too much. I prefer to use whole wheat panko. The brand I purchase is processed fairly small and is quite crunchy, so it does not need to be toasted or crushed. I do not know if that is the case with all brands of whole wheat panko, so you will need to make that decision. You can use other herbs or spices in the crumbs, but do not use too much or you will mask the flavor of the shrimp. If desired, these can be served with your favorite cocktail or dipping sauce. They also make an excellent appetizer or special treat on a finger food buffet.