Shrimp with Cocktail Sauce
Serves 4
This shrimp cocktail recipe is so simple and makes a delicious, healthy appetizer or addition to a finger food party buffet, as well as a light main dish. I have posted two methods for cooking the shrimp. The first is boiling, which is traditional. However, shrimp is excellent and even more flavorful when roasted, so I included those instructions. The recipe can be made in any amount needed.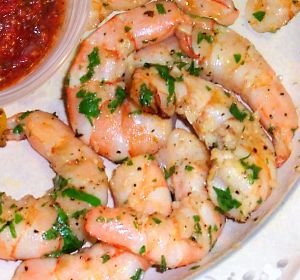 Ingredients
3/4 cup bottled chili sauce, such as Heinz
1 tablespoon prepared horseradish (more or less to taste)
2 teaspoons fresh lemon juice
1 teaspoon Worcestershire sauce
1 pound large shrimp (unpeeled if boiling, peeled if roasting)
See methods below for additional ingredients
For the cocktail sauce, mix together the chili sauce, horseradish, lemon juice and Worcestershire sauce. Cover and refrigerate. (Can be made up to three days ahead. Taste after the flavors have time to blend and adjust as desired.)
To boil the shrimp: Use a large pot with enough water to cover the shrimp. Add 1/2 lemon, 1 bay leaf and salt to taste. Bring to a boil. Add the unpeeled shrimp, bring back to a boil and cook, uncovered, just until the shrimp turn pink, about 2 minutes. (Do not leave the pot as it will form a foam that will boil over very quickly! If necessary, reduce the heat or remove from the burner until the foaming subsides.) Drain the shrimp in a colander. The peels can be left on the shrimp but, for a more elegant presentation, remove them after cooking and devein as needed. Serve warm, room temperature or chilled with cocktail sauce.
To roast the shrimp: Preheat oven to 450° F. Peel and devein the shrimp and place in one layer on a baking sheet, preferably lined with foil for easy cleanup. Drizzle with a little olive oil and lemon juice. Season with salt, pepper and, if desired, some chopped fresh parsley. Toss to combine. Roast until the shrimp start to turn pink, about 5 minutes, depending on size. Flip and roast for one more minute. Serve warm, room temperature or chilled with cocktail sauce.
Notes: Traditionally, shrimp cocktails are presented in individual stemmed glassware, such as a margarita or sherbet glass. Crushed ice is placed in the bottom of the glass and a small container, such as a shot glass, is placed in the middle on top of the ice to hold the cocktail sauce. The shrimp are hung around the edge of the glass with the tail ends facing out. For something more contemporary, put the cocktail sauce in a small bowl and set on the edge of a platter. Arrange the shrimp around the platter. This can also be done on small plates for individual servings.