Baked Fish Fillets with Lemon, Dijon and Herbs
Serves 4
Without a doubt, this is my favorite 'go to' recipe for cooking fish fillets. I love the combination of lemon, parsley and dill, and the Dijon mustard adds just a little tang. The recipe is quick and easy enough for everyday, but elegant enough for entertaining. Use any firm, white-fleshed fish that is available and on the sustainable list. Choices include but are not limited to catfish, tilapia, cod and flounder, all of which make a delicious and healthy presentation.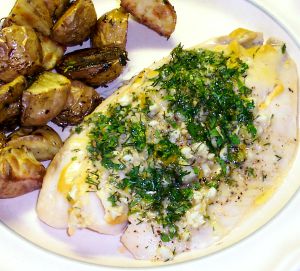 Ingredients
4 skinless firm, white-fleshed fish fillets, about 3/4-inch thick and 6 ounces each
Juice and rind of 1 lemon, divided
Salt and pepper to taste (see notes below)
2 teaspoons Dijon mustard
2 large garlic cloves, finely minced
2 tablespoons chopped fresh dill
2 tablespoons chopped fresh parsley
About 2 teaspoons olive oil
Preheat oven to 450° F. For easy cleanup, line a shallow baking sheet or pan with foil and spray lightly with cooking oil. Pat the fish dry with paper towels. Place, flesh-side up, on the baking sheet. Drizzle with half of the lemon juice, then season with salt and pepper. Lightly spread the mustard all over the top.
Toss together the garlic, lemon rind, dill and parsley. Sprinkle on top of the fillets and press down with your fingers to help it adhere. Drizzle with oil, about 1/2 teaspoon per fillet. Bake until the fish flakes with a fork, about 10 minutes, depending on thickness. Serve immediately, drizzled with extra lemon juice.
Notes: For those on a low-sodium diet, or anyone trying to reduce sodium intake, you can omit the salt. Seafood has sufficient sodium since it lives in salt water and the mustard adds more so, in my opinion, additional salt is not necessary. If you do not have fresh dill or parsley on hand, which sometimes happens to me, use dried leaves. The flavor will not be as vibrant, but it still works. Alternately, you can substitute other fresh herbs, such as tarragon or cilantro.