Baked Fish Fillets with Fresh Herbs and Breadcrumbs
Serves 2
This is one of my favorite recipes for fish fillets because it is quick, easy and very healthy. Originally, I used this method for salmon, as in the similar and related recipes, and still do. However, I love the preparation so much, I now use it for any kind of firm, white-fleshed fish fillets. The possibilities are endless. Use whatever fish is fresh that day or on hand in your freezer. I have made this recipe using catfish, tilapia, cod, flounder and more. Keep in mind that the time it takes to bake will depend on the thickness of the fillets. This delicious recipe can easily be made in any amount desired. If fresh herbs are not available, use dried, as I do when I do not have fresh on hand.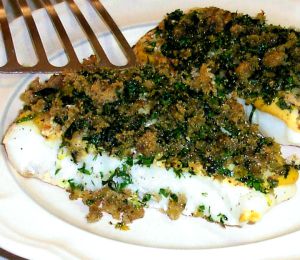 Ingredients
2 firm, white-fleshed fish fillets, about 6 ounces each
Salt and pepper to taste
1 teaspoon Dijon mustard
1 teaspoon olive oil, divided
Juice of 1/2 lemon
Grated rind from lemon
1/2 cup fresh breadcrumbs, white or whole wheat
1 teaspoon minced fresh garlic
1 tablespoon chopped fresh parsley
1 tablespoon chopped fresh dill
Lemon wedges, for garnish
Preheat oven to 450° F. Line a shallow baking sheet or pan with foil and spray lightly with cooking oil. Pat the fish dry with paper towels. Place, skin-side down, on the baking sheet. Season the top with salt and pepper. Spread with the mustard, then drizzle with half of the olive oil, and the lemon juice. In a small bowl, mix together the breadcrumbs, lemon rind, garlic, parsley and dill. Spread over the top of the fillets and press down lightly so they will adhere. Drizzle with the remaining olive oil. Bake until the fish flakes with a fork, about 10 minutes, depending on thickness. Serve immediately, garnishing plates with lemon wedges.
Notes: When I have leftover bread that needs to be used, I process it into crumbs and store in the freezer so it is ready for recipes like this.