Baked Salmon with Dijon and Breadcrumb Crust
Serves 2
This is another quick, easy, healthy and delicious salmon recipe. It is based on my roasted salmon with dijon, garlic and dill recipe, which is in the similar and related recipes. The breadcrumbs add another dimension of flavor and texture. The recipe can easily be made in any amount needed.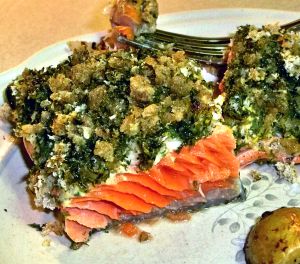 Ingredients
2 center-cut salmon fillets, about 6 ounces each
Salt and pepper to taste
1 teaspoon Dijon mustard
Juice and grated rind from 1 small lemon, divided
1/2 cup fresh breadcrumbs, white or whole wheat
2 teaspoons chopped fresh parsley leaves (see notes below)
2 teaspoons chopped fresh dill (see notes below)
1 garlic clove, minced
Olive oil
Preheat oven to 450° F. Line a rimmed baking sheet or shallow baking pan with foil and spray lightly with cooking oil.
Pat the salmon dry with paper towels. Place, skin-side down, on the baking sheet. Season the top with salt and pepper. Spread the mustard over the tops, then drizzle each with some of the lemon juice. In a small bowl, mix together the breadcrumbs, garlic, parsley, dill and lemon rind. Spread over the fillets and press down lightly so they will adhere to the mustard. Drizzle lightly with olive oil. Bake until the desired doneness, preferably no more than medium-rare to medium, 8 to 10 minutes, depending on thickness. Serve immediately, or tent with foil for about 5 minutes. Garnish with wedges of the lemon for extra drizzling.
Notes: I prefer to use fresh herbs, especially parsley and dill as in this recipe. However, there are times when I just do not have them on hand, so I use dried and it works in this dish because they are mixed with breadcrumbs. If you use dried, one teaspoon each of the parsley and dill is the appropriate amount.