Baked Fish Fillets with Mustard-Butter and Crumb Topping
Serves 4
This is one of my favorite recipes for baked fish. It is a quick, easy and delicious main dish. Use whatever firm, white-fleshed fish fillets that look fresh at the market that day, or in your freezer, such as catfish, tilapia or cod.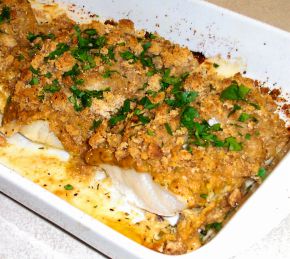 Ingredients
4 skinless firm, white-fleshed fish fillets, about 3/4 inch thick and 6 ounces each
Salt and pepper to taste
4 tablespoons butter, preferably unsalted, melted (see notes below)
2 tablespoons Dijon mustard
1 tablespoon fresh lemon juice, plus grated rind from one-half lemon
2 teaspoons Worcestershire sauce
6 tablespoons fresh breadcrumbs, white or whole wheat
Chopped fresh parsley for garnish
4 lemon wedges for serving
Preheat oven to 450° F. Butter or spray a 13x9x2-inch baking dish, or any dish large enough to hold the fish in one layer. Place the fish fillets, skinned side down, in the dish. Season with salt and pepper. Blend butter, mustard, lemon juice, rind and Worcestershire sauce in small bowl. Spread equal portions of butter mixture over each fillet, covering each fillet completely. Sprinkle breadcrumbs over fillets. Bake until just cooked through, about 10 minutes, depending on thickness. Sprinkle with parsley. Serve immediately with lemon wedges.
Notes: I have made this recipe with less butter, adding a little olive oil as needed, and it is still very good. It should be noted that any species of fish recommended in a recipe might eventually end up on the endangered list. An example is orange roughy, a tasty and popular fish which I first used for this recipe. At some point, it was no longer available. I read that it was so overfished that the species is almost extinct and, since it reproduces very slowly, it might never come back. No matter what a recipe suggests, we all need to be more aware of the sustainability of a particular fish and make responsible choices.