Seared Tuna Steaks with Breadcrumb Crust
Serves 2
I really love fresh tuna. The trick, as with all seafood, is to get it very fresh and use that day or freeze immediately for later use. I like it cooked medium-rare, although some people prefer it rare. Please do not cook it beyond medium, slightly pink in the center, or it will be dry, tough and tasteless. I usually use fresh herbs, but dried work in this presentation, using about half the amount of the fresh. This recipe is a quick, easy, healthy and delicious main dish for a weeknight or casual entertaining.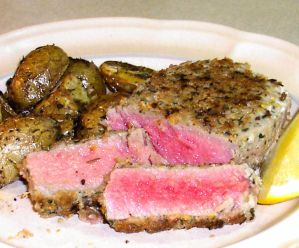 Ingredients
Cooking oil spray
2 tuna steaks, about 1-inch thick and 6 ounces each
Juice and grated rind of 1/2 lemon
Salt and pepper to taste
1/2 cup fine fresh breadcrumbs
2 teaspoons minced fresh garlic
1 tablespoon chopped fresh parsley
2 teaspoons chopped fresh marjoram
1 tablespoon olive oil
Lemon wedges from remaining lemon half
Spray a 10-inch nonstick skillet with cooking spray. Drizzle the tuna with the lemon juice and season with salt and pepper. Combine the breadcrumbs, garlic, parsley, marjoram, additional salt and pepper, and the grated lemon rind. Dredge tuna in the breadcrumb mixture to lightly coat the top and bottom, not the sides, pressing on the crumbs to help them adhere.
Heat the skillet over medium to medium-high heat. Add the olive oil, then the tuna and sear on one side until nicely browned, about 3 minutes. Flip and do other side, about 3 minutes. (The time depends on how you like your tuna cooked, and is based on medium-rare. Adjust time and heat if you want it more or less done.) Remove to serving plates. Garnish each with a lemon wedge and serve immediately.
Notes: Recipe can be made in any amount desired. Leftovers make a great tuna sandwich the next day.