Tuna Melts
Serves 3 to 4
I love tuna salad but, for some reason, tuna melts never really interested me. However, I finally decided to make them and they really are delicious. Traditionally, they are made with English muffins, but I also like to use crusty rolls. I add thin slices of tomato under the cheese. Now I make them often as a quick and easy dinner. Use your favorite recipe for the tuna salad, or see mine in the similar and related recipes, as well my healthier tuna melt without mayonnaise. How many people this recipe serves depends on how thick a layer of tuna you prefer. Personally, I like a good amount. If needed, the recipe can easily be doubled.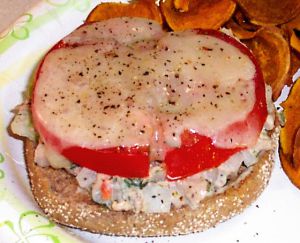 Ingredients
Tuna Salad, made from 6-ounces canned tuna
3 or 4 English muffins (see comments above)
Mayonnaise (can use light or canola)
2 tomatoes, thinly sliced
Thinly sliced or shredded cheddar cheese, preferably extra sharp
Make tuna salad. (Can be prepared up to one day ahead, covered and refrigerated. Bring to room temperature before using.)
Cut each muffin in half horizontally. Place in the toaster or on a sheet pan under the broiler and lightly toast both sides. Spread mayonnaise on the cut side of each piece. Spread with the tuna salad, top with tomato slices, then the cheese. Return to the broiler until cheese has melted. Serve immediately.
Notes: I have also made tuna melts with sandwich thins and they are equally good. Quite often, I like to make a closed sandwich, topping with the other half of the bread.