Salmon Salad Sandwiches
Makes 3 sandwiches
I love salmon and was so happy when I finally found a good quality, wild caught Alaskan sockeye canned salmon. It is so good and comes in a no-salt-added version so it is much lower in sodium than most canned fish. I love salmon and try to have it often. So, when fresh is not available, I reach for the can and make salmon cakes, salad or sandwiches. This recipe is similar to a tuna melt, because I love to top it with some melted extra sharp cheese, but the sandwich is equally good without it. And, by the way, it is also delicious as an easy and healthy seafood salad without the bread.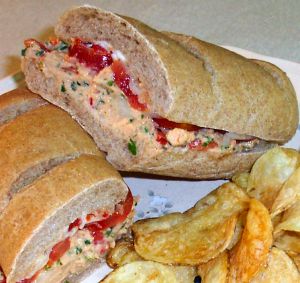 Ingredients
1 can (7.5-ounces) salmon, preferably wild caught Alaskan
1/4 cup finely chopped onions
1/4 cup finely chopped green bell peppers
1/4 cup finely chopped red bell peppers
Juice and rind of 1 small lemon
1 tablespoon chopped fresh dill
1 tablespoon chopped fresh parsley
2 teaspoons chopped fresh basil
Salt and pepper to taste
1 tablespoon nonfat plain yogurt, preferably Greek-style
1 tablespoon reduced-fat or canola mayonnaise, plus more for rolls
3 medium-sized crusty sub rolls, preferably whole wheat
2 tomatoes, thinly sliced
Thinly sliced extra sharp white cheddar cheese (optional)
Hot pickled pepper rings or relish (optional)
Drain the salmon. Place in a medium bowl and break apart with a fork or your fingers. Add the onions, peppers, lemon juice and rind, dill, parsley, basil, salt and pepper. Stir to combine. Add the yogurt and mayonnaise. Stir again until well combined. Taste for seasoning.
Split the rolls in half horizontally. Scoop out some of the bread on both halves to form a space for the salad. Place under a broiler, cut side up, and toast until golden. Spread both halves with a thin layer of mayonnaise (or use more yogurt for this step). Place salmon salad on the bottom halves. Top with the tomato slices. If desired, top with the cheese. Place the bottoms back under the broiler just until the tomatoes warm and the cheese melts, about 2 minutes. Top with the optional hot peppers, place the top rolls on and serve.
Notes: The amount of sandwiches this makes depends on the size of the rolls and the amount of filling used. The recipe makes about 1-3/4 cups of salmon salad, so three 8-inch sub rolls would each hold a little more than 1/2-cup. The recipe can easily be doubled for 4 to 6 sandwiches. Leftover salmon salad, refrigerated, is good as a salad or sandwich the next day.