Fried Fish Fillet Sandwiches
Makes 4 sandwiches
I seldom eat at fast food chains, but I used to love the filet of fish sandwich at one particular restaurant. So, I decided to make my own. It is quick and easy, the fish tastes fresher, I can control the salt, and it is healthier because of the lighter breading, type of oil and frying method. This was not intended to be a copycat recipe, but it is surprisingly close to the original and tastes even better.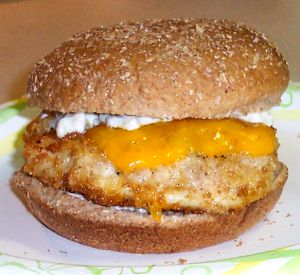 Ingredients
1 cup all-purpose flour
Salt and pepper to taste
1 cup plain dry breadcrumbs, preferably homemade (see notes below)
1 egg
2 tablespoons milk
1 pound firm, white-fleshed fish fillets, such as catfish, cut into 4 equal portions
1 cups canola or other cooking oil, more or less as needed
Thinly sliced sharp cheddar cheese (optional, see notes below)
4 hamburger or other soft buns, split
1/2 cup tartar sauce (see the similar and related recipes)
Place the flour on a plate. Season with the salt and pepper; mix well to combine. Place the breadcrumbs on another plate. Break the egg into a shallow bowl. Add the milk and beat well to combine. Use a paper towel to pat excess moisture from the fish. Dip first into the flour, shaking off any excess, then into the egg mixture, then the breadcrumbs, coating both sides well. Place on a rack set on a sheet pan. Refrigerate for 30 to 60 minutes to help the coating adhere when frying.
Add enough oil to a 12-onch skillet to generously cover the bottom. Heat over medium-high heat. (The oil must be very hot, but not smoking. To test it, take one of the fillets and hold it so that one edge is in the oil. If it sizzles, the oil is ready.) Carefully place the fillets into the oil. Fry until nicely browned, about 3 minutes per side. Remove from the pan and place on a clean baking rack to drain. If using cheese, place the slices on the fish immediately so they will melt. Spread some tartar sauce on the bottom half of each bun. Top with a fish fillet, then more tartar sauce. Close the sandwiches and serve.
Notes: I prefer extra sharp white cheese to yellow and it is what I usually use because it is what I have on hand. Most of the restaurants use yellow cheddar, which is a bit milder. Use whichever you prefer. I have used panko in place of regular dry breadcrumbs for a lighter and an even crispier crust.