Salmon Sandwiches with Tomatoes and Cheese
Makes 2 sandwiches
I absolutely love salmon and am always looking for new ways to serve it. This recipe was created when I had quite a bit of leftover roasted salmon from the night before. I usually cook more salmon than I need so there is some leftover for lunch. But that particular time we did not eat quite as much so there was plenty leftover for dinner sandwiches. I love when that happens. Dinner sandwiches are so quick and easy to prepare when there are leftovers. However, I do purchase and roast salmon just for this sandwich because it still takes no time at all and is so delicious. This recipe can be made in any amount needed.
Ingredients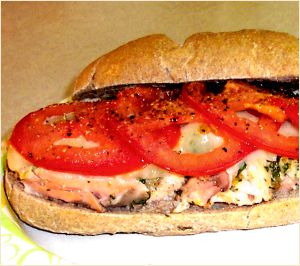 8 ounces center-cut salmon fillets
Salt and pepper to taste
1 small lemon
1 medium garlic clove, finely minced
2 teaspoons chopped fresh dill
2 teaspoons chopped fresh parsley
Olive oil
2 large crusty rolls, preferably multigrain or whole wheat
Mayonnaise (can use light or canola)
Thinly sliced extra sharp white cheddar cheese (or cheddar cheese of choice)
1 medium tomato, juices and seeds removed, thinly sliced
Hot pickled peppers (optional)
To prepare salmon, preheat oven to 450° F. For easy cleanup, line a shallow baking sheet or pan with foil and spray lightly with cooking oil. Pat the salmon dry with paper towels. Place, skin-side down, on the baking sheet. Season with salt and pepper, then drizzle with a little lemon juice. Top with the garlic, dill and parsley on top of the fillets and press down with your fingers to help it adhere. Drizzle each fillet with a little olive oil. Bake until the desired doneness, about 7 minutes for medium-rare, depending on thickness. Remove from oven and let rest about 5 minutes.
Meanwhile, cut the rolls in half horizontally. If desired, use your fingers to remove some of the bread from each half to make a canoe shape. Place on a baking sheet, cut side up, and toast under a broiler until golden. Lightly spread each half with mayonnaise. Remove the skin from the salmon and place on the bottom rolls, breaking it apart as needed to fit the roll. Top with the cheese, then the tomato slices. Return the bottoms to the broiler and broil just long enough to melt the cheese, about 3 minutes. Top with the optional hot peppers, then the top rolls. Serve immediately.
Notes: Any method of cooking the salmon will work in this sandwich, whether roasted, grilled, broiled, pan-seared or poached. It is all good. If using leftover salmon, bring it to room temperature before making the sandwiches. There is no need to reheat since it will warm up under the broiler.