Whole Wheat Sub or Kaiser Rolls
Makes 6 large or 8 medium rolls
I love a good sandwich for dinner. Depending on the filling, I use many different types of bread such as wraps, English muffins, sandwich thins or tortillas. I can buy all of those varieties in whole grain with minimal or no preservatives and mystery ingredients. Not so with sub rolls, also known as hoagie rolls, or kaiser rolls. Whole wheat is never the first in a long list of ingredients, many of which I do not recognize. So, I had to learn to make my own. It took a lot of experimentation and adjusting of my recipe until I developed a tasty, crusty roll that was firm enough to handle sandwich fillings but with the familiar airy texture. Being a relatively lazy bread maker, I also wanted to keep it easy and as quick as possible by using the bread machine for mixing and kneading the dough, then shaping the rolls by hand and baking in the oven. See the notes below for a 100% whole wheat version.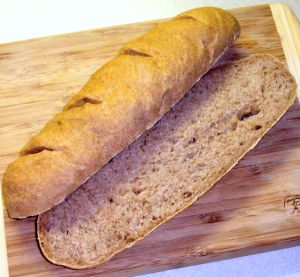 Ingredients
2 cups whole wheat bread flour (see notes below)
1-1/2 cups whole wheat flour
1/2 cup all-purpose flour (see notes below)
1/4 wheat gluten
1-1/2 cups warm water
3/4 teaspoon salt (see notes below)
2 tablespoons canola or other vegetable oil
Scant 2-1/2 teaspoons rapid rise dry yeast
Add the ingredients in the order suggested for your bread machine. Process using the whole wheat setting for a quick dough. (If you do not have a bread machine, do this in a heavy-duty standing mixer or by hand.) Check the dough while mixing and add water or flour if needed.
When the dough is ready, punch down and separate into 6 or 8 equal portions. (I usually make 8 medium-sized rolls, 4 ounces each. For larger rolls, make 6.) For sub rolls, shape each portion into 6 to 8-inch logs depending on desired length and width. For kaiser rolls, shape into 4-inch circles. Place on two parchment lined baking sheets, cover with lightly oiled plastic wrap and a towel, and place in a warm, draft-free area. Let rise until doubled, about 40 minutes.
Meanwhile, preheat oven to 425° F. When the rolls have doubled in size, use a very sharp or serrated knife to cut several slits about 1/4-inch deep in the tops. Spray lightly with water. Bake on two separate oven racks until done, 15 to 20 minutes depending on size, rotating the pans after 8 minutes. (You know the rolls are done if they make a 'thumping' sound when tapped on the bottom.) Place the rolls on a cooling rack until completely cooled. Rolls can be used that day or wrapped in foil, placed in storage bags and refrigerated for several days or in freezer bags and frozen for up to six months.
Notes: For a 100% whole wheat bread, omit the all-purpose flour and use 2-cups each of the whole wheat bread and whole wheat flour, which is what I now do. Whole wheat bread flour can be found in some specialty stores or online. If you cannot find it, use 1-cup regular bread flour and 3-cups whole wheat flour, omitting the all-purpose. If you prefer a milder flavor, use white whole wheat flour in place of the regular whole wheat. As is, the recipe makes a very low-sodium bread. If that is something you are not used to, increase the salt to about 1-1/2 teaspoons and use a full 2-1/2 teaspoons of the yeast.