Roasted Peppers Sandwiches
Makes 4 sandwiches
There are many uses for Italian roasted peppers and this is one of my favorites. Most often, I make these sandwiches when I have leftover peppers, but I do not hesitate to roast peppers just for this purpose because they are so easy to make. You can use any variety or color of peppers, just so the majority is sweet, such as red bell. When I am in the mood for a little heat, I add a few hot peppers to the mix. These sandwiches are delicious with a sharp Italian cheese, such as asiago or provolone. However, extra sharp cheddar works as well. Italian fontina or mozzarella are good choices for those who prefer a milder cheese. That being said, this is equally good without cheese. As for the bread, use anything you prefer that is dense and crusty, such as the Whole Wheat Sub or Kaiser Rolls in the similar and related recipes. In a pinch, you can use store-bought roasted peppers for an even quicker version of this sandwich. The flavor will be a little different because the roasting process is not the same.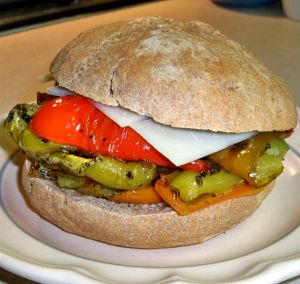 Ingredients
4 large green and/or red bell peppers, cleaned and sliced into 3/4-inch slices
4 large cloves garlic, minced
1 tablespoon dried basil
Salt and pepper to taste
About 2 tablespoons of olive oil
8 slices Italian or French bread, or crusty rolls
Sliced Asiago or extra sharp Provolone cheese
Preheat oven to 450° F. Place peppers, garlic, basil, salt and pepper in large shallow baking dish or sheet pan. (Do not crowd the peppers or they will steam rather than roast.) Drizzle oil over all and stir well to combine. Place in oven and roast until very tender, stirring occasionally. The peppers should brown slightly between turns. This will take about 40 minutes, depending on the thickness of the flesh. Remove from oven and allow to cool slightly or come to room temperature. Cut the rolls in half horizontally. Place peppers on the bottom, top with cheese and the other piece of bread. Serve and enjoy.