Pumpkin Pie
Makes one 9-inch pie
This was always my family's favorite pumpkin pie recipe. My mother got the recipe from a can of pureed pumpkin many years ago. However, when the size of the cans got smaller, the original recipe had to be revised. It is traditional, very easy and, in my opinion, the best. It is creamy and dense but not heavy, and full of pumpkin flavor. I have made the pie with fresh pumpkin and it is very good, but no better than the canned and a lot more work. For a sweet potato pie based on this recipe, see the similar and related recipes.
Ingredients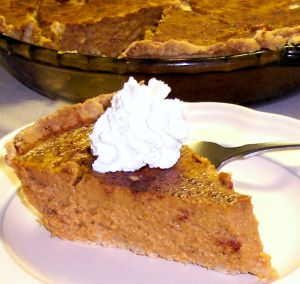 2 large eggs, lightly beaten
1 can (15-ounces) puréed plain pumpkin (or 1-1/2 cups cooked, drained and mashed fresh pie pumpkin)
Scant 3/4 cup granulated sugar
1/4 teaspoon salt
1 teaspoon ground cinnamon, plus more for sprinkling
1/2 teaspoon ground ginger
1/4 teaspoon ground cloves
1 can (12-ounces) evaporated milk, plus regular milk if needed to make 1-2/3 cups
One 9-inch deep dish pie shell, store-bought or homemade (see the similar and related recipes)
1 to 2 tablespoons butter, preferably unsalted, cut into small pieces
Preheat oven to 425° F. Combine first 8 ingredients (up to pie shell) in order listed. Mix until well blended. Pour into unbaked pie shell. Dot with butter pieces. Sprinkle with extra cinnamon. Bake for 15 minutes. Reduce oven to 350° and continue to bake for 40-50 additional minutes or until knife inserted in center comes out clean. Cool completely on rack before serving. If desired, top individual slices with whipped cream.
Notes: The original recipe called for 1/2 teaspoon salt, which is what we used to use. I now use much less salt in my cooking, so I cut the amount in half. Use more if you prefer. I also use less sugar, and sometimes sugar substitute for baking with a 1:1 ratio for a portion of the granulated. Reduced fat evaporated milk works as well as full fat.