Sweet Potato Pie
Makes one 9-inch pie
This is basically the same as my pumpkin pie recipe, which is in the similar and related recipes, except that sweet potatoes replace the pumpkin. You can cook the potatoes in water before mashing or, for more flavor, bake them and remove the skins. Any extra mashed potatoes can be frozen for a later use. Measure before storing in freezer bags so you know how much you have.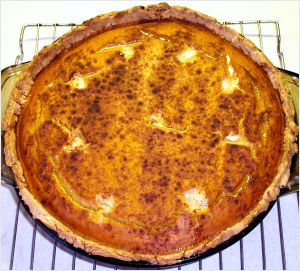 Ingredients
2 large eggs, lightly beaten
1-1/2 cups cooked and mashed sweet potatoes
3/4 cup granulated sugar
1/2 teaspoon salt
1 teaspoon ground cinnamon
1/2 teaspoon ground ginger
1/4 teaspoon ground cloves
1-2/3 cups evaporated milk (can use reduced or nonfat)
One 9-inch pie shell, store-bought or homemade (see the similar and related recipes)
2 tablespoons butter, preferably unsalted, cut into tiny cubes
Preheat oven to 425° F. Combine first 8 ingredients in order listed. Mix until well blended. Pour into unbaked pie shell. Dot with butter pieces. Sprinkle with extra cinnamon. Bake for 15 minutes. Reduce oven to 350° and continue to bake for 40-50 additional minutes or until knife inserted in center comes out clean. Cool on rack.
Notes: I have made this pie with low fat and skim evaporated milk, as well as substituting half of the sugar with a sugar substitute with a 1:1 ratio, such as Splenda. It is still every bit as good and no one can tell the difference.