Southern Pecan Pie
Makes one 9-inch pie
This is the best pecan pie I have ever tasted. It is not as sweet and has more pecans than most. The recipe was passed to my mother many years ago from a southern friend. The filling is very quick, easy and delicious. Make your favorite pie crust or, if time is an issue, use a good store-bought crust.
Ingredients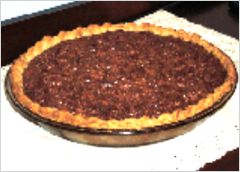 4 large eggs
1 cup granulated sugar
1 cup dark corn syrup
4 tablespoons butter, preferably unsalted, melted
1 teaspoon vanilla
2 cups coarsely chopped pecans
One 9-inch pie shell, store-bought or homemade, chilled (see the similar and related recipes)
Preheat oven to 375° F. Beat eggs lightly. Add sugar, syrup, butter and vanilla; beat until well blended. Add pecans; stir. Pour into chilled, unbaked pie shell. Distribute pecans evenly. Bake for 50-60 minutes or until knife inserted in center comes out clean. (If pecans become too brown on top, cover loosely with foil.) Cool on rack. Serve warm or room temperature, with or without a dollop of whipped cream.