Fresh Tomato and Cheese Pizza
Makes one 14-inch pizza
This is an easy and absolutely delicious pizza recipe. Make your own homemade dough, as in the similar of related recipes or, if you need a quick meal, purchase a prebaked crust. Either way, it is great. I like to use roasted garlic on this pizza, but fresh is equally good. Just use about half as much.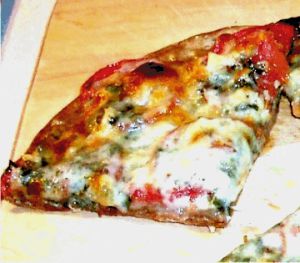 Ingredients
One batch homemade pizza dough (see the similar and related recipes) or 14-inch prebaked pizza crust
2 large tomatoes, sliced thin
1 tablespoon chopped fresh basil (or 2 teaspoons dried)
1 tablespoon chopped fresh parsley (or 2 teaspoons dried)
4 large cloves garlic, roasted and minced
Salt and pepper to taste
1/4 cup grated mozzarella cheese
2 tablespoons freshly grated Parmesan and/or Romano cheese
Olive oil
Preheat oven to 450° F. Lightly grease a 14-inch pizza pan or cookie sheet with olive oil or spray; sprinkle with cornmeal. Press dough into pan, shaping as you press until desired thickness. Form a slight collar around the edges.
Top crust with the ingredients in the order given, keeping tomatoes in one layer. Drizzle with just a little of the olive oil. (See notes below for using a pizza stone.) Bake for 10-15 minutes or until dough is done and toppings are hot. (If using a store-bought crust, follow the package instructions for baking.) Cool slightly before cutting and serving. This pizza is equally good at room temperature, so it also makes great leftovers.
Notes: If you have a pizza stone, you can use that whether making the dough from scratch or using a prebaked crust. Place the stone on the bottom rack of the oven before preheating. Form the crust on an ungreased pizza peel sprinkled with cornmeal. Add the toppings, then slide the pizza onto the stone and bake as directed above.