Personal Pita Pizzas with Sliced Tomatoes and Cheese
Serves 2 (can be made in any amount)
Flat pita breads are great substitutes for pizza crusts, and they are perfect for individual pizzas. This recipe includes some of my favorite toppings. You can use any toppings you prefer, such as cooked meat or vegetables, or have several toppings available so each person can choose what he or she likes. This is an excellent main dish for casual entertaining because it is quick, easy and versatile, and everyone can get involved in assembling their own pizza. The recipe can easily be made in any amount needed.
Ingredients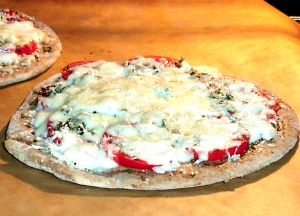 2 medium pita breads, about 8-inches each (see notes below)
Olive oil, about 2 teaspoons
4 large plum or other tomatoes, thinly sliced
Salt and pepper to taste
2 garlic cloves, finely chopped
4 tablespoons chopped fresh basil
2 tablespoons chopped fresh parsley
4 ounces mozzarella cheese, thinly sliced or grated
2 ounces freshly grated Parmesan cheese
2 ounces freshly grated Romano cheese
Place a pizza stone or a large baking sheet in the oven on the lowest rack. Preheat oven to 475° F. Meanwhile, place the tomato slices on paper towels and salt lightly. Place a paper towel on top and let drain for about 30 minutes to remove some of the excess juice. Lightly brush the tops of the breads with olive oil. Top the pizza first with the tomato slices, salt, pepper, garlic, basil and parsley. Then layer with the cheeses in the order listed. Drizzle the top with a little more olive oil and add more pepper. Place on the hot stone or baking sheet and bake until the cheeses are melted and the crust is crisp, about 15 minutes. Remove from oven and let cool about 5 minutes before serving.
Notes: Flat pitas are best for this recipe because they are thinner than pocket pitas. You can use other types of flatbread, even flour tortillas. I prefer to use whole wheat pitas for their flavor and nutritional boost.