Baked Canadian Bacon with Maple-Mustard Glaze
Serves 8
Every Christmas, my mother prepared a special breakfast that she served after the presents were opened. She varied the menu slightly from year to year, but it always included juice (which she spiked when we were older), eggs, potatoes, breakfast meats, homemade breads and/or muffins, fresh fruit and coffee or hot chocolate.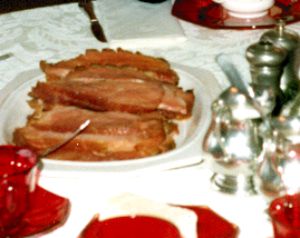 Photo taken circa 1975.
Canadian bacon, pictured in the photo of my mother's holiday breakfast table, was the meat Mom served most often for Christmas. It is the meat traditionally used with eggs benedict. It comes from the pork loin so it is relatively lean. It can be used in most recipes that call for regular bacon. It is readily available sliced and, in some stores, in chunks or whole pieces. Mom baked it whole, using a glaze similar to what she used on a baked ham, as in the glazed ham in the similar and related recipes. This recipe is quick, easy and can be made in any amount needed.
Ingredients
One piece (about 2-pounds) fully-cooked Canadian bacon (see notes below)
1/2 cup pure maple syrup (preferably dark)
2 teaspoons Dijon mustard
Pinch of ground cloves
Freshly ground pepper to taste
Preheat oven to 325° F. Place the bacon, fat side up, on a sheet pan lined with foil if desired for easy cleanup. Combine the syrup, mustard, cloves and pepper in a small bowl; stir well to combine. Generously brush the top and sides of the bacon with the syrup mixture. Bake for 15 minutes, then brush again with the glaze. Continue to bake just until heated through, about 15 additional minutes. Remove from oven, tent with foil and let rest about 5 minutes before slicing and serving. (The bacon can be kept warm in a very low oven until needed. Cover whole bacon with foil or slice and wrap in foil.)
Notes: As I understand it, Canadian bacon found in Canada can be uncooked or fully-cooked. In the United States, it is usually fully-cooked and it should be treated like a fully-cooked ham, baked only until heated so it stays moist and tender. Check the package if you are not certain. If, for some reason, it is not cooked, bake at 350° F until an instant-read thermometer inserted in the center registers 145°, about one hour, brushing with glaze after 30 minutes and again 15 minutes later, and then let rest about 10 minutes before slicing. If you can only find sliced Canadian bacon, place in one layer on a baking sheet, glaze and bake at 325° F, just until heated, about 10 minutes depending on thickness. I prefer dark maple syrup because it has more flavor than light or amber. However, it is not as easy to find and either is delicious.